Bullitt
(1968)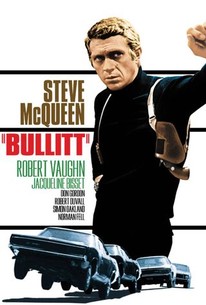 TOMATOMETER
AUDIENCE SCORE
Critic Consensus: Steve McQueen is cool as ice in this thrilling police procedural that also happens to contain the arguably greatest car chase ever.
Movie Info
Robert L. Pike's crime novel Mute Witness makes the transition to the big screen in this film from director Peter Yates. In one of his most famous roles, Steve McQueen stars as tough-guy police detective Frank Bullitt. The story begins with Bullitt assigned to a seemingly routine detail, protecting mafia informant Johnny Ross (Pat Renella), who is scheduled to testify against his Mob cronies before a Senate subcommittee in San Francisco. But when a pair of hitmen ambush their secret location, fatally wounding Ross, things don't add up for Bullitt, so he decides to investigate the case on his own. Unfortunately for him, ambitious senator Walter Chalmers (Robert Vaughn), the head of the aforementioned subcommittee, wants to shut his investigation down, hindering Bullitt's plan to not only bring the killers to justice but discover who leaked the location of the hideout. ~ Matthew Tobey, Rovi
Critic Reviews for Bullitt
Audience Reviews for Bullitt
If you were a kid in the 80s, you can rest assured your dad or grandad was parked in front of the tv on a sunday afternoon. Because if it wasn't football or baseball season, then right after wrestling, the local channel would air either one of the many classic John Wayne movies or "Bullitt", starring Steve McQueen. It has that kind of reputation. But, and 'sssh, don't tell anybody' this has a lot more going for it than the average brain-dead Jason Statham movie. Granted, there isn't a whole lot to McQueen's character, but the movie that surrounds him is enthralling and clever. McQueen plays "Frank Bullitt", a San Francisco police lieutenant who is put in charge of protecting a mob informant. It's a job he doesn't particularly want, and he especially doesn't like the smell of the way things are set up. His suspicions are confirmed when the witness and the cop on duty are both shot up in the hide out location. Who did the shooting and how did they know where to find him? Bullitt has only 48 hours to solve the crime before Chalmers pins everything on him and makes him the fall guy. Steve McQueen personally hand-picked director Peter Yates after seeing another film Yates had done which featured an intense car chase. With Bullitt, the car chase is the centerpiece of the film. Set in the streets of San Francisco, it takes us through harrowing twists and turns and flying up and down hills. It's tense, fast and gritty. As intense as that car chase is, the rest of the film keeps up the pace, but the twists and turns come from following the plot. Bullitt isn't a complicated guy, but he knows that what he does and sees is disturbing to the average civilian.
Devon Bott
Super Reviewer
½
Steve McQueen is as attention-demanding and sauve as any James Bond, and Bullitt is a perfect showcase for the actor. With the famous car chase thats shows off the equally arresting camera work, the film has enough style and bravado to almost make up for the generic crime story.
Sam Barnett
Super Reviewer
½
The car chase is as great as advertised (an absolutely stunning achievement), but that's really about it. Contrary to what I've read, the plot is rather pedestrian, if not slightly illogical, and some of the "emotional scenes" are unmitigated failures. It's almost as if Yates spent all his energy mapping out the infamous car chase and neglected his directorial duties of molding his cast. Every character is one note without an ounce of depth. They want you to believe that Frank Bullitt is a cold, hardened man because of his job, and that the horribly conceived scene with his girlfriend revealing her fears about what is happening to his (and their) life is this greatly profound moment that binds all the thematic concerns together... I didn't buy any of it for a second. In the end, Bullitt passes as a decent action/cop film, but is nowhere near as profound as it wants to be.
Jonathan Hutchings
Super Reviewer
Bullitt Quotes
There are no approved quotes yet for this movie.
Discussion Forum
Discuss Bullitt on our Movie forum!