Bundy: An American Icon
(2008)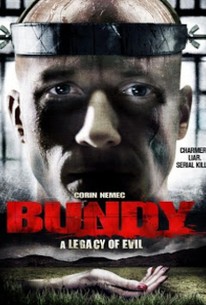 AUDIENCE SCORE
Critic Consensus: No consensus yet.
Movie Info
Corin Nemec stars as the handsome serial killer who terrorized America during the 1970s by embarking on a gruesome killing spree that spanned seven states and left over 30 dead.
Critic Reviews for Bundy: An American Icon
Audience Reviews for Bundy: An American Icon
Corin Nemec pairs with Director Michael Feifer on their fourth direct-to-video profile of a serial killer. This time the one they chose was Ted Bundy and the movie is not as advertised. Even though their other collaborations have been less than steller, I decided to watch this one, because it was described as a "drama that traces the path of this charming icon serial killer." From that, I was hoping to see a biographical film and that's the way it started out. After a half-hour or so, the film unfortunately descended into a blood bath. Ever since establishing himself with the hilarious teen comedy, Parker Lewis Can't Lose, Corky Nemec has turned to the dark side and seems to thrive on playing these twisted evil men. The former teen idol is terrific and gives a really strong performance, but it was the only thing of note in this film. After introducing us to Bundy, the writers stop focusing on the man and focus on his crimes. For the final hour of this film that's all you see, until a macabre ending which tries to show Bundy as some kind of hero, who never had a chance, because of his circumstances. The man brutally butchered as many as seventy woman, but according to this film, it's not his fault, he's just a child who never grew up. The whole premise of the film was ridiculous, it's a blood bath that tries to make Ted Bundy into some kind of victim and it's a slap in the face to the families of his victims. As much as I enjoy seeing Corin Nemec play a psychopath, I'm done with these snuff films that glorify the most evil men the world has even known.
Todd Smith
Super Reviewer
Bundy: An American Icon Quotes
There are no approved quotes yet for this movie.
Discussion Forum
Discuss Bundy: An American Icon on our Movie forum!