Axe Giant: The Wrath Of Paul Bunyan
(2013)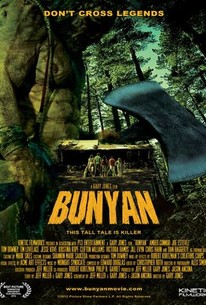 AUDIENCE SCORE
Critic Consensus: No consensus yet.
Axe Giant: The Wrath Of Paul Bunyan Photos
Movie Info
Young adults at a first-time offenders' boot camp discover the legend of the giant lumberjack Paul Bunyan is real, but is much more horrifying than they could have imagined. Starring B-Movie legends Joe Estevez and Dan Haggerty (TV's Grizzly Adams), along with many familiar and fresh faces, Axe Giant: The Wrath of Paul Bunyan will make audiences cower in fear. Paul Bunyan is one of the most famous characters in North American folklore. He and his companion, "Babe the Blue Ox," are featured in tall tales of the late 19th and early 20th centuries. Bunyan was a lumberjack of great size and skill, rumored to be so tall that "his footsteps created the Great Lakes. He "dragged his axe and made the Grand Canyon." Today, Bunyan's legend is commemorated by numerous statues across the upper Midwest and far-beyond. (c) Cinema Purgatorio
Critic Reviews for Axe Giant: The Wrath Of Paul Bunyan
All Critics (1) | Fresh (1) | Rotten (0)
I suppose if one must see a movie about a rampaging, mutant version of a popular lumberjack from the depths of American folklore, Axe Giant: The Wrath of Paul Bunyan is the best bet.
Audience Reviews for Axe Giant: The Wrath Of Paul Bunyan
Every now and then we need to relearn the lesson taught by the adage "Never judge a book by it's cover", because the Axe Giant cover is awesome, but the movie is mediocre. I appreciate a dark twist on folklore as much as the next guy, but it has to work out in practice, which Axe Giant fails at entirely. Most of its problems are those that are hard to avoid in low-budget endeavours, but that doesn't excuse the issues, nor does it cover up a poor script or inconsistent canon. The end credits promise that Paul Bunyan will "Return", I can't really see that happening. And if it does, you can't count me amongst its audience.
I enjoy watching bad movies but this movie was really, really bad.The acting was terrible, The special effects makes you want to laugh but it is worth wasting 90 minutes you'll never get back again.If you've never seen Axe Giant: The Wrath Of Paul Bunyan then it's worth watching once & only once.If you've seen it before then you probably never want to see it again.Once was way more then enough for me
Brody Manson
Super Reviewer
½
Juvenile delinquents at a work camp in the woods are killed off by Paul Bunyan (who is revealed to be a mentally deficient giant) after they inadvertently desecrate Babe the Blue Ox' grave. A big, lumbering oaf of a movie.
Axe Giant: The Wrath Of Paul Bunyan Quotes
There are no approved quotes yet for this movie.
Discussion Forum
Discuss Axe Giant: The Wrath Of Paul Bunyan on our Movie forum!