Bus 174 (Ônibus 174)
(2003)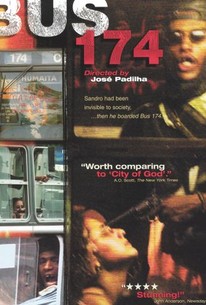 Movie Info
A chronicle exploring what happened in Rio de Janeiro, Brazil, on June 12th, 2000--Valentine's Day in Brazil--when Bus 174 was highjacked by an armed young man, Sandro do Nascimento, with a dozen passengers. Nascimento, a disillusioned slum-dweller, threatened to kill all of the passengers, but eventually agreed to surrender, as TV cameras were rolling and an entire nation was glued to their screens, watching the event take place. Regardless, a police officer then decided to fire at Nascimento anyway, accidentally killing one of the female passengers instead. What followed was a revolt among the city's population, enraged both at the police brutality and their incompetence. The crowd's reactions were comparable with the Rodney King riots. The documentary captures the media and society's responses to the event. As the chronicle intertwines the story of the standoff, it also presents biographical information about Sandro do Nascimento, which includes: his childhood as a survivor of the "Candelaria" child mass murders in the early 1990s; his subsequent adolescence in which he was sent to horrific juvenile delinquency facilities; as well, his trauma sustained from seeing his mother stabbed to death in front of him.
Critic Reviews for Bus 174 (Ônibus 174)
Audience Reviews for Bus 174 (Ônibus 174)
½
An always gripping, harrowing and thought-provoking documentary that dives deep into an open sore of Brazilian society and exposes some of the most terrible social issues that have been driving out of control a city dominated by violence and indifference.
Carlos Magalhães
Super Reviewer
The intentions behind making this documentary might be good (i.e. achieving an award :p), but it moves very briskly. The more-than-often-repeated threat by the hijacker to "Set the heat up" made my blood boil. Guess his vocabulary was limited. The documentary is bearable otherwise. And even if the documentary was made with pure intentions, I wonder how long will its message last (assuming that it's not being conveyed to deaf ears), if at all it does.
familiar stranger
Super Reviewer
½
A brilliant film that sends shivers down the spine..not in terms of the hostage taking but in terms of the prisons and society that the hostage taker endured. A real gem.
John Ballantine
Super Reviewer
Bus 174 (Ônibus 174) Quotes
There are no approved quotes yet for this movie.