Busting
(1974)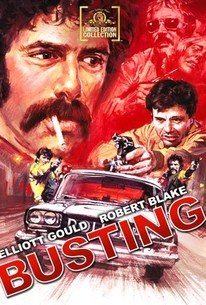 AUDIENCE SCORE
Critic Consensus: No consensus yet.
Movie Info
Peter Hyams made his feature-film directing debut with this clumsily paced crime film concerning two Los Angeles vice-squad detectives. Michael Keneely (Eliott Gould) is the swaggering non-conformist and Patrick Farrel (Robert Blake) is the cocky follower. The two cops live for their work and spend most of their time busting call girls, massage parlor employees, and homosexuals. Keneely and Farrel eventually come to the conclusion that every criminal act in Los Angeles is due to the efforts of crime lord Carl Rizzo (Allen Garfield). The boys begin to harass Rizzo to the point of distraction, but their singular attempts to arrest Rizzo cause them to become the targets of, not only the criminal population, but the police force as well.
Rating:
R
Genre:
, ,
Directed By:
Written By:
In Theaters:
On DVD:
Runtime:
Studio:
United Artists
Watch it now
Cast
Critic Reviews for Busting
Audience Reviews for Busting
½
Like so many other buddy cop films from the 70s, "Busting" is seriously misguided and bears all the trademarks of a director experimenting with social taboos. Plus, it's severely lacking in almost every aspect designed to make it an enjoyable experience. Elliot Gould and Robert Blake sleepwalk through their roles and have a laughably low amount of chemistry together, even though they do share a few great, but woefully short-lived scenes set in a public bathroom. As well, Peter Hyams' flatfooted direction cripples the film's pace, which is hurt even more by a boring and confused screenplay. "Busting" just takes way too long to get started and when it finally does, it completely unravels and falls apart when it reaches its silly, poorly executed finale, which is embarrassingly free of suspense. I usually like giving older, lesser known films a chance, but this one deserves to stay forgotten.
Stephen Earnest
Super Reviewer
½
Fast paced, cynical, amusing dialog between a pair of detectives in Los Angeles. Robert Blake and Elliot Gould team up as the fast talking, witty and audacious pair of detectives neither their department nor the crime world wants. Film director debut of Peter Hyams. [img]http://t1.gstatic.com/images?q=tbn:ANd9GcSVZsGAFAnk9Nj9peqcaByAi2hNMOgkVD37fA3gF0SxODk4X5QZ[/img] Two 1970's L.A. undercover, vice squad detectives find all their work focuses on petty crimes when what they want to "bust" is the big criminals. Being frustrated at every turn, their superiors have been corrupted by crime bosses. The ending involves a two ambulance car chase thats less than impressive. Elliot Gould (M.A.S.H.) and his partner, Robert Blake (TVs Baretta) are presented as unconventional vice cops with humor in a very humorless area of Los Angeles. The whole movie is full of early seventies costuming, lifestyle, big cars and general retro experiences. [img]http://t1.gstatic.com/images?q=tbn:ANd9GcSBkj-xSltd3jLe5Ce9XfzXiSZjOnX9sSufoVhV19RBBFADsWL4nw[/img] When Gould and Blake keep pursuing a crime boss they get no support from their corrupt superiors and are reassigned rookie partners. But somehow the two get back together and continue the pursuit of the major crime figure in L.A. While the movie comes off a bit television like, Gould and Blake elevate the film above its plodding, realistic script full of ghetto buildings, boxing gyms and general low life. [img]http://t0.gstatic.com/images?q=tbn:ANd9GcRC70k6YR_4TWQ6FZbWkUr84fIGgwOdZTLtEECzBWLiNNKO0EQDlQ[/img] Pretty much a routine cops and robbers caper that has a unique ending when the credits role. The whole substance of the film comes across when we hear Gould applying for work after quitting the police force. His reason: he needed a change. REVIEWS: 1 The film is extremely cynical, strongly implying that crime does pay ... and that the biggest criminals in society are corrupt politicians and businessmen who will never be punished for their crimes. 2 Busting did not do as well at the box office as the later Freebie and the Bean, arguably due to its harder, more cynical style / tone. 3 "Busting" hardly overturns any film traditions, but it gives a little life to an exhausted genre. Mr. Hyams, who wrote and directed "Busting," brings off something of a feat by making a contemporary cop film that is tough without exploiting the sort of right-wing cynicism that tells us all to go out and buy our own guns.---- NY Times 4 Breath of fresh air This was Elliot Gould, in his brash, arrogant, early star days, and Robert Blake, pre-Baretta (when he was actually a good actor). It is no Academy winning classic by no means, but this film is a highly charged, very entertaining vehicle. Good chemistry between the stars. - AA, NJ Directed by Peter Hyams Films directed by Peter Hyams: Busting (1974) · Our Time (1974) · Peeper (1975) · Capricorn One (1977) · Hanover Street (1979) Outland (1981) · The Star Chamber (1983) · 2010 (1984) · Running Scared (1986) · The Presidio (1988) Narrow Margin (1990) · Stay Tuned (1992) · Timecop (1994) · Sudden Death (1995) · The Relic (1997) · End of Days (1999) The Musketeer (2001) · A Sound of Thunder (2005) · Beyond a Reasonable Doubt (2009 Produced by Robert Chartoff Irwin Winkler Written by Peter Hyams Starring Michael Keneely . . . . . Elliott Gould [img]http://t0.gstatic.com/images?q=tbn:ANd9GcQxaqVmLIl6-naKfxwNT8k_MLkiQ82q31EloSHTIgu3rTc734RN[/img] Patrick Farrel . . . . . Robert Blake Carl Rizzo . . . . . Allen Garfield Stephen . . . . . Antonio Fargas Marvin . . . . . Michael Lerner Sergeant Kenfick . . . . . John Lawrence Jackie . . . . . Cornelia Sharp Music by Billy Goldenberg Cinematography Earl Rath Editing by James Mitchell Studio United Artists Release date(s) 1974 Running time 91 min. Country United States [img]http://upload.wikimedia.org/wikipedia/en/thumb/3/34/Bustingposter.jpg/220px-Bustingposter.jpg[/img]
monsieur rick
½
Pretty good cop drama/actioner. More great chases from Hyams. A little long in some sections though.
Brad West
Discussion Forum
Discuss Busting on our Movie forum!
News & Features