The Butch Factor
(2009)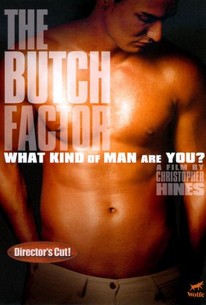 AUDIENCE SCORE
Critic Consensus: No consensus yet.
Movie Info
While most men wrestle with the notion of what masculinity means to themselves and within their culture, the issue is especially tricky for gay men, some of who openly reject traditional gender roles while others seem obsessed with appearing even more "manly" than their straight counterparts. Filmmaker Christopher Hines explores the often contradictory notions of masculinity within the gay community in the documentary The Butch Factor. Hines profiles a number of gay men who are athletes, rodeo cowboys, prison guards and rock musicians, and they share their feelings about the nexus between the macho exterior of their life pursuits and their own sexuality. Hines also interviews a handful of willfully effeminate men who talk about their rejection of a traditional masculine image while also having to defend themselves against anti-gay violence, and gay men on both sides of the divide contribute their feelings about the less complicated perspective on what constitutes manhood for straight men. The Butch Factor received its world premiere at the 2009 San Francisco International LGBT Film Festival.
Critic Reviews for The Butch Factor
Audience Reviews for The Butch Factor
½
The Butch Factor wants to showcase different kinds of gay men in an effort to reinforce the notion everyone comes to their version of masculinity a different way. That's all well and good, though it strikes out in the editing department. Instead of including quick look backs at history late in the film, they should be front and center in order to compare where masculinity was to where it is. Plus, with a deputy sheriff, rugby player, football player, rodeo cowboy and softball player, the film is top loaded with the "normal" version of masculinity even though each of the men profiled came to their particular masculinity in a different way. This almost feels like an elongated piece for a news magazine instead of a feature film. The stories are short, the personalities don't reappear later in the film and the thesis is, quite frankly, more than a bit boring. (I think the point here is to say everyone is worthy of respect, courtesy and love regardless of how they act, what they wear or how they talk.) The Butch Factor gets a little preachy toward the end with the introduction of an author who is almost dismissive of current "twink" gay culture. That part, at the very least, could have been left out since it comes off as little more than a grown man whining.
Jason Vargo
Super Reviewer
½
This is a refreshing examination of masculinity in gay culture, should definitely work as a great FAQ for the heteronormative crowd out there. For those already aware and somehow invested in the study of all things queer, there are many cool people interviewed who have done some noteworthy projects you'll find yourself googling during or after the movie. I would say I consider myself a 7 of 10 in terms of queer history and culture knowledge, and I learned something new - the term "castro clone" which was used to describe a group of gay men, mostly in San Fran at the rise of gay rights movement, who went to great pains to adopt the hypermasculine images of the works of Tom of Finland, who in turn was inspired by the genuinely hypermasculine, mostly WWII veteran, gay men of the late 40s, early 50s who used their masculine looks to avoid discrimination and encourage easy assimilation into a fearful straight culture. Castro clones used this same look in the late 60s early 70s as a cruising tool, and that enlightened me a lot in terms of where the waxed gym rat standard of today came from.
_kelly .King
Super Reviewer
The Butch Factor Quotes
There are no approved quotes yet for this movie.
Discussion Forum
Discuss The Butch Factor on our Movie forum!