Butcher Boys
(2013)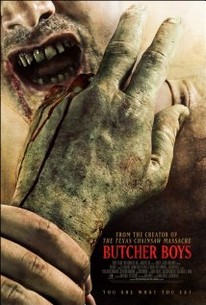 AUDIENCE SCORE
Critic Consensus: No consensus yet.
Movie Info
SYNOPSIS: From the creator of The Texas Chainsaw Massacre comes this gut-wrenching, non-stop roller coaster ride through the hellish underbelly of inner-city America. A birthday celebration at an upscale restaurant sets in motion events that bring a group of friends face to face with the macabre world of cannibals, the Butcher Boys. The Butcher Boysare international predators who deal in human flesh - dead or alive. (c) Phase 4
Rating:
R (for strong violence, language, some sexual content and nudity)
Genre:
,
Directed By:
Written By:
In Theaters:
On DVD:
Runtime:
Studio:
Critic Reviews for Butcher Boys
Audience Reviews for Butcher Boys
½
It's going to end in tears. A unique group of serial killers live deep in the underground as we know it and occasionally appear out of the darkness, into the life as we know it, but generally just long enough to capture their pray and take them to be tortured. A group of friends are snatched and dragged to the underground where they discover a life of pain, suffering, and cannibalism... "What's this about?" "It's about you dying, bitch." Duane Graves and Justin Meeks, who collaborated on The Wild Man of Navidad and Red on Yella, Kill a Fella; collaborate again on Butcher Boys. The storyline for this picture is just okay but has some great kill scenes and funny interaction. The gore is well done but the acting is average even for the horror genre. "Give me back my dog!" This was recently added to Netflix for the Halloween season and I instantly added it to my wish list. There were definitely some good kill scenes in here with some worthwhile characters; however, this film felt fairly ordinary and like a poor man's Texas Chainsaw Massacre. Overall, this is only worth viewing for diehard fans of the horror genre. "You might want to think twice about all of that wiggling." Grade: C
Kevin Robbins
A summary I read claimed it was a gut-wrenching film! I concur my gut was indeed wrenching while I knelt before the porcelain god!
Juli Norwood
½
Butcher Boys (Duane Graves and Justin Meeks, 2012) I spend a decent amount of time trolling the bottom of my sorted (by average rating) Netflix queue, looking for those movies that have a horrible rating that are actually pretty good. I've come across a few here and there that are neglected for whatever reason. The Butcher Boys, Texas Chainsaw Massacre writer Kim Henkel's first feature script in eighteen years, is the latest of those. I have no idea what movie the public who rated this movie a collective one and a half stars were watching, but it must not have been Butcher Boys. Plot: Sissy (Breaking Dawn's Ali Faulkner) is celebrating her seventeenth birthday at a swanky restaurant in Austin, Texas, that's under protest by a band of radical vegetarians. (While I can't tell you why without spoilers, this becomes important later.) When she, her brother Mikey (Dear Sidewalk's Philip Wolf), and their friends Barbie (The Big Picture's Tory Tompkins) and Benny (Hallettsville's Derek Lee Nixon) are on their way home, a series of minor misadventures end up with them crossing paths with the Butcher Boys (also known as the Boneboys, which was the film's original title), who are out for the kind of good time that involves kidnapping random folks and taking them back to the basement of Austin's hottest new restaurant, J. Swift's. Okay, the movie's main drawback is very easy to point out, and is just as minor as it sounds: this movie contains two of the worst body-double shots in cinema history. If you combine the two, they take up less than a second of screen time, so that can't be what everyone's up in arms about. And the movie certainly does have its reliance on Henkel's older, far better-known script; before I realized Henkel had written it, I was planning on giving them a few snaps up for nailing modern takes on certain classic TCM scenes (the dinner, especially). They still deserve it. There are a few times this feels like "what The Texas Chainsaw Massacre would have been like if it had been written as a comedy"; given the popularity, if not the quality, of the movie's many sequels (and a remake or two that took that tack), it's not a bad idea. IMDB's trivia section mentions that this was originally Henkel's script for The Texas Chainsaw Massacre II, but he pulled it out and re-worked it with the aim of turning The Butcher Boys into a new franchise. That, too, is deserved; given a little time and room to grow, this might grow away from its ancestor and become something even better than it is now. It's still singing in someone else's voice, but the lyrics are pretty darn good so far. *** 1/2
Robert Beveridge
Butcher Boys Quotes
There are no approved quotes yet for this movie.
Discussion Forum
Discuss Butcher Boys on our Movie forum!