Butterfly---A Grimm Love Story
(2006)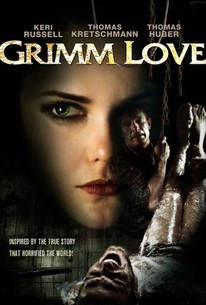 AUDIENCE SCORE
Critic Consensus: No consensus yet.
Movie Info
A young woman finds herself becoming obsessed with a violently disturbed man in this gruesome thriller inspired by actual events. Katie Armstrong (Keri Russell) is an American college student who is majoring in criminal psychology while studying abroad in Germany. Needing to explore a notorious murder case for a class project, Armstrong begins looking into the life and crimes of Oliver Hartwin (Thomas Kretschmann), who had been convicted of murder after killing and eating another man. Hartwin's crime was unusual in that he posted a message in an internet chat room asking for a male volunteer between the ages of 21 and 40 who would be willing to be murdered and cannibalized afterwards. While Hartwin did find a man willing to die and be eaten, this did not make matters safe or simple for the German cannibal. As Armstrong digs deeper into the horrible facts of Hartwin's crimes, she finds her reserve beginning to crack as she can no longer control her feelings about the killer. Also shown under the titles Grimm Love and Rohtenburg, Butterfly: A Grimm Love Story was inspired by the true story of Armin Meiwes, who was convicted of the 2001 death of a man he killed and partially ate who he met through a posting on the internet, in which he asked for a volunteer willing to be slaughtered.
Critic Reviews for Butterfly---A Grimm Love Story
All Critics (3) | Fresh (2) | Rotten (1)
Kudos to screenwriter T.S. Faull for creating complex characters who, while their actions and reactions may not always be relatable, come together like the pieces of a jigsaw puzzle to show a cohesive picture in the end.
kakoithis anisi pop psyhologia poy mono tis melima einai na apodosei ola ta eidi ton psyhologikon parekliseon sto proteyon honeytiri tis problimatikis shesis me ti mitera

While I doubt I'll ever see the flick a second time, I've no problem recommending it to fans of dark and disturbing cinema.

Audience Reviews for Butterfly---A Grimm Love Story
they need to update this since the film is now called "Grimm Love" a very disturbing film especially the last 30 minutes
Eric Prill
½
As he holds his willing victim, he sees their shadow on the wall and says, "Together, we make a beautiful butterfly" (something like that). Sounds disturbing? No, not yet...how about these quotes: "Oliver Hartwin wanted to eat someone. Simon Grombeck wanted to be eaten. They were a perfect match." "Bite my thing! Bite it off! Bite it off!" "There's no way back for me. Only forward. Through your teeth." "You are delicious." Yeah! I bet it sounds disturbing now. Katie Armstrong (Kerri Russell) is working on a college paper and decided to write about Oliver Hartwin (Thomas Kretschmann). She travels to his hometown to speak with people in the community about him. Supposedly based on true events, Oliver had a strong desire to eat human flesh. He grew up with a looney mother and a creepy imaginary friend that didn't really give the best advice. When Simon Grombeck (Thomas Huber) was a young boy his mother committed suicide because she found him playing doctor with another boy naked. Simon lived with the guilt that he killed his mother and had a strong desire to have someone bite away at his flesh. These two crackpots found each other on the internet and long story short...they both got what they wanted. Oliver was nice enough to record the events...he referred to it as a wedding...something he wants to watch over and over again. Katie gets a hold of this tape and in the end we watch the gruesome act unfold right along with her. Oliver put out a request on a cannibal site for more flesh. Luckily, this was brought to the attention of the authorities and he was caught before he could kill again. I'm not one that can really deal with movies showing cannibalism but I figured if it got too bad I would turn it off. They showed just enough to make me cringe. I was grateful that they avoided zooming in on scenes that would have surely made me turn the movie off. The story is dark and dreary but jaw dropping...I couldn't turn it off. I recommend this scrumptious movie for at least one watch! Bon appétit!
Michele Schaefer
[FONT=Fixedsys]To see this movie, is to experience the dark side. The belly of the beast, a place many of us dare not look. Sequences from this film lingered inside my mind for days, weeks - constantly capturing my thoughts, my heart, forcing me to ask questions I'd simply never considered. The performances from the two leads are outstanding, daring, and award worthy. This is a complicated tale, one of desires, the forbidden, and in the most bizzare sense, love. Everyone should at least see this movie once, it's based upon tru events, and will certainly leave you sleeping with the light on. [/FONT]
Jeremy Sexton
Butterfly---A Grimm Love Story Quotes
There are no approved quotes yet for this movie.
Discussion Forum
Discuss Butterfly---A Grimm Love Story on our Movie forum!