Cabaret Balkan (Bure baruta)
(1999)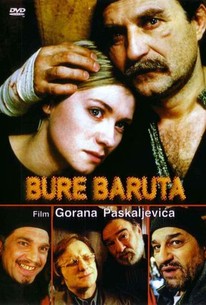 Cabaret Balkan (Bure baruta) Videos
Cabaret Balkan (Bure baruta) Photos
Movie Info
This striking drama, set in the mid-1990s, interweaves the violence-wracked stories of 20 people trying to survive and exist among the civil unrest visited upon the Serbian capital of Belgrade. Nikola Ristanovski, Nebojsa Glogovac, Miki Manojlovic, Marko Urosevic, Bogdan Diklic, Dragan Nikolic.
Rating:
R (for strong violence including an act of sexual assault, strong language and some drug use)
Genre:
, ,
Directed By:
Written By:
In Theaters:
On DVD:
Runtime:
Studio:
Paramount Classics
Critic Reviews for Cabaret Balkan (Bure baruta)
Audience Reviews for Cabaret Balkan (Bure baruta)
[b][i]Cabaret Balkan[/i][/b] - A shocking film from Serbia of coincidence, chance and the strangeness of redemption. It's a devastating but hugely profound experience. While hard to find, I highly recommend seeing it. Get out the old VCR. [b]**** (out of ****) A[/b] [b][i]Cast Away[/i][/b] - How Hanks and this lovely film didn't win top honours at the Oscars doesn't really shock me, but it should've happened, dang it! It's a spectacular, exciting and brilliantly emotional film. I was shocked, touched and ultimately moved. It's genius. [b]**** (out of ****) A+[/b] [b][i]Changing Lanes[/i][/b] - I did not expect to like [i]Changing Lanes[/i] as much as I did. I expected it to be a fun thriller, but I did not at all expect it to be a great character study at the same time. Samuel L. Jackson is brilliant here, and the supporting cast is perfect. [b]**** (out of ****) A[/b] [b][i]Chinatown[/i][/b] - Certainly one of Roman Polanski's finest films (most would say it's his best, but that's [i]Rosemary's Baby[/i]), the beautiful noir [i]Chinatown[/i] is deceptive, delightfully witty and ultimately shocking. Nicholson and Dunaway deliver two of the best performances you'll ever see. [b]**** (out of ****) A+ [i]A Clockwork Orange[/i][/b] - My third favorite Kubrick film (the first two - [i]Eyes Wide Shut[/i] and [i]The Shining[/i]), [i]A Clockwork Orange[/i] is as relevant today as it's ever been, and will probably remain just as relevant as years pass - especially once world government is achieved by the powerful white men who run things. It's a work of genius, and if you haven't seen it, you simply must (and should probably delete your journal, since you're so not a film lover). [b]**** (out of ****) A+ [/b]
Christopher Lozier
Discussion Forum
Discuss Cabaret Balkan (Bure baruta) on our Movie forum!