Cadence
(1989)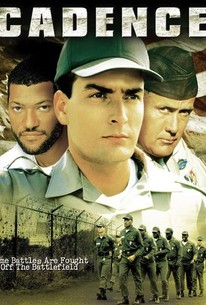 Movie Info
When a young Caucasian military man is thrown into an all African-American barracks for punishment, he slowly earns the respect of his peers while they all are forced to contend with the prejudicial acts of a racist sergeant. Charlie Sheen, Laurence Fishburne, Martin Sheen (who also directed) and others appear in this well-intentioned drama.
Critic Reviews for Cadence
Audience Reviews for Cadence
One of Sheen's best kept secrets is this gem of a tiny indie before he lost his mind....very,very well acted.
bill secor
I finally saw "Cadence" while I was visiting my family in Texas awhile back and it was a great movie. Charlie Sheen has to go to military camp for 90 days after hitting a cop. Martin Sheen plays the role of the sergeant at the base. "Cadence" features one of both Charlie's and Martin Sheen's best performances in my opinion. Charlie Sheen must survive the 90 days in the camp in order to get out alive. He has to go to Vietnam afterwards. This movie will keep you interested while you watch to see if Franklin Bean, (Charlie Sheen), can learn to get along with his black roomates and how he will put up with the sergeant, (Martin Sheen), while he's there. You will remember "Cadence" for the performances that all the actors put on and some of the other sequences such as getting the windmill to work. But you'll remember it even more for the song "End of My Journey" after you hear it at the end of the movie. There's no doubt that it's the best Christian song I've ever heard. If you like movies that deal with the Army, you'll like "Cadence." In my opinion, it's one of the best movies of the decade and one movie you can't miss. NOTE: That was my Amazon review from the year 2000. Yet another rather overlooked great by Sheen, along with The Chase and to a lesser extent, Beyond The Law.
Jason Owens
Super Reviewer
½
Stereotype packed, the Black actors at least get a showcase for their skills, and many have gone on to bigger things, but this film has it's niche appeal as a time capsule of an era where the US Army was not at it's best, and intentionally sought to rid itself of the Black street hoodlums it needed desperately to fight in combat in Vietnam. Welcomed into the ranks to fight, and discarded pitilessly when that war war declared a no-go...(I know about this from personal experience, as I was a Military Policeman during this era working the jail/stockade detail..and it not only sucked, it blew!)...I can say that, despite it's myriad flaws, it was better to have this film made than not, if only to let the viewer get a small glimpse into the mindset of the era, as sanitized as it is in this film. I have a problem with such anti-military individuals as the Sheen/Estevez Axis creating such stuff, revisionist history mind-control and all that rot, but viewing this with your BS detectors on full can still make an interesting film experience, at the performance level (the cast all do their best), so grab the salty buttered oiled popcorn and check it out...
Black Snake
Cadence Quotes
There are no approved quotes yet for this movie.
Discussion Forum
Discuss Cadence on our Movie forum!