Café Flesh (Cafe Flesh)
(1982)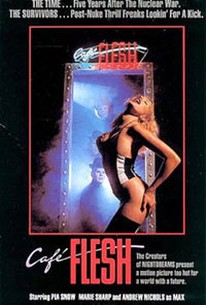 AUDIENCE SCORE
Critic Consensus: No consensus yet.
Movie Info
In the aftermath of a nuclear war, most of the surviving population finds sex physically impossible. They are branded Sex Negatives. The few Sex Positives are forced, on penalty of death, to perform in special bars and clubs like Cafe Flesh for the edification of the frustrated masses. Lana has managed to pass herself off as a Negative to avoid the compulsory performances, but as she starts to drift away from the man she loves, she starts to question her decision.
Rating:
NR
Genre:
,
Directed By:
Written By:
In Theaters:
Runtime:
Critic Reviews for Café Flesh (Cafe Flesh)
Audience Reviews for Café Flesh (Cafe Flesh)
One of those classic porn films that I've always heard about but hadn't seen, I was pleased to be able to give this one a look before listening to the Projection Booth guys review it. It's filled with unsexy sex and puzzling imagery, which makes it worth a look for the sheer 'what the fuck' of it all, because it's a very strange little affair. Worth a look.
Bill Bryant
Five years after a nuclear war more than half the population are left sexually deformed. These people are known as sex negatives. A single touch with the slightest of sexual intention leaves them violently ill. The ones who escaped unscathed are known as sex positives. These people, by law, must now perform live explicit stage shows for the less fortunate. Welcome to CAFE FLESH. This film is a truly bizarre mixed bag that is part science fiction, art house, and pornography. A cult classic for years and after seeing it I know why. The director, Stephen Sayadian, (billed here as Rinse Dream) has a great eye for strange setting and off kilter atmosphere, which is one of the reasons it pushes it beyond your normal porno flick. The writer, Jerry Stahl, (billed here as Herbert W. Day) is the other reason this movie succeeds. The plot alone is so interesting and original that if you took out all the hardcore sex you'd still have a great movie. That being said, you really want to view the movie with all that intact though. The sex scenes are done in such an art house way that the sex itself becomes a bonus to the visuals that surround it. Starring in the film is actress Michelle Bauer (billed here as Pia Snow, the most poetic and amazing pseudonym in porno history) who went on the become a cult b-movie star appearing in such films as Nightmare Sisters, Sorority Babes in the Slimeball Bowl-O-Rama, and Hollywood Chainsaw Hookers. Her acting wasn't any better in the early days but she's cute and gets the job done. Also making a cameo as an audience member is comedian, and later star of Homicide and SVU, Richard Belzer. If you want an original experience here it is. If the idea of pornography puts you off, I say try and push it aside and give this film a shot. SIDE NOTE: Stephen Sayadian (director) and Jerry Stahl (writer) worked together again in 1989 writing and directing another midnight movie cult classic DR. CALIGARI. A semi sequel/bizarre riff on the classic 1920 film The Cabinet of Dr. Caligari. Jerry Stahl has also become a very successful and amazing novelist penning four novels and a memoir about his days as a junkie. Read his work and see these movies.
Philip LoPresti
Discussion Forum
Discuss Café Flesh (Cafe Flesh) on our Movie forum!
News & Features