Caffeine
(2007)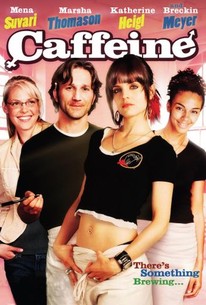 Movie Info
A cozy coffeehouse serves as the setting for director John Cosgrove's over-caffeinated tale of sexual peccadilloes and complicated relationships starring Mena Suvari, Katherine Heigl, and Breckin Meyer. It's a typical lunch hour in London, and The Black Cat Café is fast filling up with patrons whose sexual lives have become a tangled web of infidelity, kinky idiosyncrasies, and betrayal. Stoned on some of the most potent weed in jolly old England, a neurotic young commitment-phobe attempts to keep his cool when he has an unexpected run-in with his bitter ex-girlfriend. But he's not the only one whose secrets are about to come out today, because after a shy young lady is forced to fend off a boorish blind date whose preconception of her couldn't be more wrong, a possessive boyfriend discovers that his current girlfriend was once a well-known adult film star. Later, after a fragile old lady mistakes a patron for the ex-husband she once found in a compromising position with a kinky prostitute and a high-powered attorney discovers that her husband-to-be likes to dress in ladies' clothes, the manager's boyfriend claims that a recent ménage à trois is perfectly forgivable since it was conducted with a pair of identical twins.
Critic Reviews for Caffeine
Audience Reviews for Caffeine
½
Add a review (optional)...
Nick Grimm
Super Reviewer
I feel guilty rating this a three in case anyone actually thinks it's good and rents it out on my recommendation! However, it did manage to hold my attention, maybe due to the horror of Mena Suvari and an "uglifed" Katherine Heigl, doing really bad English accents. Why they didn't just leave this set in the US and use their own accents, I have no idea, it would have worked just as well, and there was no real reason for it to be set in the UK anyhow! I rated it a three because that's kind of my "average" rating, and I did find it interesting enough to watch it all the way through, (which I originally doubted I would be able to do!), and found it okay even with the bad acting, bad accents and bad story! Rent at your own risk!
Nicki Marie
Super Reviewer
Caffeine Quotes
There are no approved quotes yet for this movie.