Cain and Mabel
(1936)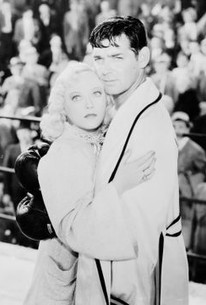 AUDIENCE SCORE
Critic Consensus: No consensus yet.
Movie Info
Previously (and uncomfortably) co-starred in Polly at the Circus, Marion Davies and Clark Gable were reteamed in Cain and Mabel, reportedly on the demand of Davies' "sponsor" William Randolph Hearst. The story concerns a hash slinger-turned-Broadway-star named Mabel O'Dare (Davies, endearingly miscast) whose career is in the hands of hotshot publicist Reilly (Roscoe Karns). To stir up interest in Mabel's latest musical show, Karns cooks up a phony romance between his client and boxing champ Larry Cain (Gable) -- even though Mabel and Cain have already developed a healthy dislike for one another. Unfortunately, Karns' brainstorm turns out to be a drizzle: Mabel's show is a flop, and Cain begins losing in the ring. By the time Cain and Mabel have fallen in love for real, both parties have had to virtually abandon their careers as proof that it is for real. Most of the comedy setpieces in the film fall flat, save for a terrific bit near the end: Told that "The show must go on!," a disconsolate Mabel asks "Why?" -- and no one can come up with a good answer! This is the film in which a studio stagehand allegedly pops up during one of the production numbers, but don't kill yourself looking for him. PS: The handsome actor billed as David Carlyle later enjoyed a substantial screen career as Robert Paige.
Rating:
NR
Genre:
, ,
Directed By:
Written By:
In Theaters:
On DVD:
Runtime:
Studio:
Unknown
Critic Reviews for Cain and Mabel
All Critics (1) | Fresh (1) | Rotten (0)
The second teaming of Gable and Marion Davies is a semi-seuccessful screwball comedy, nominated for the Dance Direction Oscar

Audience Reviews for Cain and Mabel
The second teaming of Gable and Marion Davies is a semi-seuccessful screwball comedy, nominated for the Dance Direction Oscar just chock full o one liners!
Greg Wood
½
Cain and Mable (1936) Aloysius K. Reily (Roscoe Karns) is an out-of-work reporter who bumps into waitress, Mabel O'Dare (Marion Davies) and makes her his project. He becomes her manager / publicist, and even gets her a job as the head dancer in a Broadway stage show. She's not the best dancer, but she holds her own, and the theater owner, Jake Sherman (Walter Catlett) thinks that she's a fresh new face. Larry Cain (Clark Gable without the mustache) is an up-n-coming boxer, headed for the heavyweight championship. All he needs to do is get some sleep before the big fight, but can't do it with Mabel practicing her tap dancing above his room. These two start out hating each other. Larry's fight manager, Pat Walters (William Collier Sr.) and Jake can't seem to get enough ticket buyers to see their talents. They get together with Reily to dream up some fake publicity about Larry and Mabel falling in love. Somehow Mabel and Larry aren't in on the scam, although they start to fall for each other anyway. This was one of the last films that Marion Davies did before getting out of the business. She's best known as newspaper tycoon, Randolph Hurst's mistress. Young Clark Gable's build almost looks like a boxer. He's in great shape, but this is Davies's movie and includes many outrageous stage numbers trying to show off her talent.
Rick Rudge
Cain and Mabel Quotes
There are no approved quotes yet for this movie.