Caine (Man Eater)(Shark)
(1970)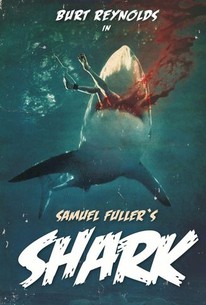 AUDIENCE SCORE
Critic Consensus: No consensus yet.
Movie Info
In this actioner, a gun runner gets a job as a marine biologist while stranded in the Middle East. He quickly finds out that his new employer and his wife are really treasure seekers looking for bullion. Unfortunately, the gold lies in deep, shark-filled water. Tragically, while the movie was being shot, a stuntman really was killed by a shark.
Rating:
PG
Genre:
, ,
Directed By:
Written By:
In Theaters:
On DVD:
Runtime:
Studio:
Republic
Audience Reviews for Caine (Man Eater)(Shark)
½
Not much to about sharks, though it's obviously more noticeable for Fuller and Reynold's. Though even then, it's a cheap-talk movie that takes too long to get going, and wasn't that interesting from the get-go. The premise could work, if it was done more exciting.
Wes Shad
Why would you hire Sam Fuller to direct and then KICK HIM OUT OF THE EDITING ROOM! Editing is WHY you hire Sam.
Ken Stachnik
Super Reviewer
½
[font=Times New Roman][size=3]Another dollar movie gets my money once again.[/size][/font] [size=3][font=Times New Roman]Burt Reynolds (Smokey And The Bandit) stars as an arms smuggler who's on the run after a narrow escape from guards at a roadblock. Stranded in a small coastal town in Africa, Burt is laying low from the law and trying to find a decent razor so he can shave. [/font][/size] [size=3][font=Times New Roman]Holed up in a third rate hotel with an alcoholic doctor who's trying to forget his past, Burt befriends a young boy street urchin. Along the way they share some smokes, some jokes and some confusing dialogue. The plot thickens as Burt finds that an aging biologist and his beautiful assistant have the only boat in town and they've been diving off the coast doing research. [/font][/size] [font=Times New Roman][size=3]What happens next is your guess as good as mine. Half of the film was overexposed or filmed at night without proper lighting. I really can't believe they let this run but they did. Evening dive shots are completely lost, and the touching beach romance between Burt and the lovely young assistant is left to sparse dialogue and 10 minutes of black screen.[/size][/font] [font=Times New Roman][size=3]After the artificial glaucoma has subsided the story turns as we realize the crew has been diving for sunken treasure and not science! A love triangle soon entangles the cast in a ride to outrun a police constable hot on the trail. The movie is marked with some underwater stunt photography featuring sharks, one of which claimed the life of a diver.[/size][/font] [font=Times New Roman][size=3]A good afternoon film to occasionally glance at between chores.[/size][/font]
B Bay
Discussion Forum
Discuss Caine (Man Eater)(Shark) on our Movie forum!