Bab el hadid (Cairo Station) (The Iron Gate)
(1958)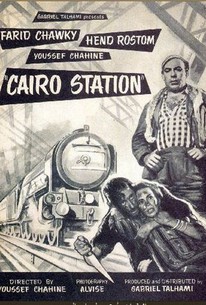 Bab el hadid (Cairo Station) (The Iron Gate) Photos
Movie Info
Youssef Chahine directs and stars in this bittersweet, neo-realist drama about a crippled newspaper vendor who falls for a gorgeous lemonade seller. Qinawi (Chahine) is in love with Hanouma (Hind Rostom). But Hanouma is engaged to rugged station worker Abu-Serih (Farid Chawqi). As Abu-Serih attempts to unionize the station workers, Qinawi's fixation on Hanouma crosses the threshold from innocent crush to dangerous obsession.
Rating:
NR
Genre:
, ,
Directed By:
Written By:
In Theaters:
On DVD:
Runtime:
Critic Reviews for Bab el hadid (Cairo Station) (The Iron Gate)
Audience Reviews for Bab el hadid (Cairo Station) (The Iron Gate)
½
Cairo Station: an exploration of the internalized misogyny of the real world in the reel word In the early outbreak of Arabic Film production in Egypt, producers and actors paid more attention to selling tickets rather than delivering content. Romantic films used to dominate the field and were always adored by the audience that was comfortable with the content provided. However, when the psycho-thriller Cairo Station (or Bab Al-Hadid, The Iron Gate) came out in 1958, viewers were caught off-guard and were shocked by the content of the film. In addition to the new genre, the audience was shocked by the "real" when they asked for "reel". Youssef Chahine's film portrayed the gutters of Egypt as they were exactly, and offered an exaggerated idea of how far things can progress under the "right" conditions. The constant mistreatment, rejection and alienation, repression, and unreasonable expectations of masculinity, contributed to the birth of a mentally unstable character. The film highlighted the troublesome areas, such as dominance of males over females and the societal views on sex, in the constitution of society and reflected them for the viewers to critique. Chahine's Cairo Station follows a day in a train station in Cairo, the more civilized part of Egypt at the time, and shows the numerous different people you find there on a daily basis. The centeral character, Qinawi, is a poor crippled newspaperman who is pitied by the society for his ill fortune. Qinawi is constantly compared to Abu Siri', a perfect representation of a manly man, who is adored by everyone, especially Hanuma, Qinawi's love interest. Throughout the film, Qinawi's sexual frustration is highly emphasized as he gets rejected by the women in the movie. Qinawi is never thought of as a sane person for his limp and his eerie intrinsic nature, as evident by Hanuma's declining of his marriage proposal. Hanuma's vulgar nature added to the atrocity of the situation and was the straw that broke the camel's back to Qinawi, which led to the development of a darker side of himself as he sets off to kill her. The film shows two opposites in the film: The manly ideal man, Abu Siri', and the weak unmanly man, Qinawi. This opposition represents society's view on the superiority of masculinity as compared to non-masculinity, which is often equated to femininity, the inferior state, based on society's limited view on gender as a static unchangeable binary. This binary, according to Socrates, imposes a hierarchy on the two opposites, which is socially determined (Plato). This is evident in the film when the possibility of Qinawi's marriage is disregarded for his inferiority to his masculine opposite (9:30), implying that marriage is a quality for a "man" and not anyone less. The film's use of binary opposites reflects societal views on the criteria that should be present in a male for him to be labeled a man, such as having a respectable job, intellect, and a certain body image that is accompanied by a form of prestige. The binary opposition in the movie is also greatly illustrated by the misogynistic treatment of female characters, regardless of their assertive nature. Women are portrayed as objects throughout the film as close up shots of their legs and breasts are constantly highlighted, which presents them as objects of sexual pleasure rather than absolute effective entities in the community. The objectification of women is further portrayed by the possessive nature of Abu Siri' towards Hanouma as he gets outraged when he finds out that Hanouma was dancing in the train. He then proceeds to bash her publically for her actions, insinuating that she is his only and is not for anyone else's sights (38:02). Additionally, after being rejected by Hanouma, Qinawi decides to murder her for agreeing to marry another man, suggesting that if she cannot be his she will not be anyone else's (1:10:13). This reinforces the idea that women are objects whose sole purpose is to please men be it sexually, emotionally, or socially. In addition to misogyny, Chahine proposes that the societal view on sex produces an innate desire to sexualize ordinary situations. Chahine illustrates this point by using cinematic metaphors to show how everyday objects can be used as references to sexual behaviors. After having a fight about Hanouma's dance in the train, Abu Siri' and Hanouma engage in sexual intercourse, that is implied by several cinematic metaphors witnessed by Qinawi. Directly after showing a shot of Abu Siri' standing over Hanouma that is lying down (Figure 1), a shot of Qinawi zooms in on the cola bottle he is holding (Figure 2). The camera then lingers over the shot of the railroad under a train moving up and down rapidly, mirroring heavy breathes of Abu Siri' and Hanouma as they have sex (41:14). These metaphors are used to show the viewers that they can understand the meaning of these metaphors because of the repression of sexual thoughts inflicted by society's high regard for prudence and purity. Chahine's point is supported by Freud's view on the unconscious, which suggests that repression of certain ideas leads to the transformation of unconscious thoughts into conscious actions (Freud). The repression of sexual ideas can sometimes lead to conscious actions such as rape and sexual assault, or even the simplest of them all, cat-calling. The film also reflects that by accentuating the degree of this repression as it presents various scenes that show men verbally assaulting women. Cairo Station is one of the first Arab films to display a real image of society in theaters, which led to its banning from movie theaters for years, due to its "inappropriate" contents. The film handles ideas of sexual frustration due to the repression of sexual thoughts in society, unrealistic standards of masculinity, and the projection of misogyny as a reflection of the reality of conservative communities, like those of the Arab region. The film acts as a reflection of life to provide the viewers an opportunity to witness the absurdity of the situation from afar, and critique the consequence of their deeds.
k abu
It's a strikingly controlled, confident, bitingly effective display, which leaves you wondering where this film has been all our lives.
Greg Wood
½
At a train station in Cairo, Madbouli runs a newspaper stand where he takes pity on Qinawi(Youssef Chahine, who also directs), who is handicapped, and gives him a job. On a personal level, he is shocked to discover that Qinawi may have a subscription to Playboy before anybody else on the block. In truth, Qinawi only has eyes for Hanouma(Hind Rostom), a flirtatious seller of illegal drinks, who in return leaves her evidence with Qinawi when she is being chased by the authorities. In truth, she is getting married to Abu Serih, a porter, who is also tryng to unionize the station. "Cairo Station" successfully uses a bustling train station as a model for the rest of Egypt which at this point in history is rapidly going through changes with many innovations being introduced like roll and roll and even feminism in the person of Women against Marriage. Working in contradictions is Abu Serih who treats Hanouma roughly but cares for the welfare of his fellow man. The only one without any ideas of his own is Qinawi and this is his tragedy. So, it is a shame that this briskly paced movie eventually turns into just another garden variety psychothriller.
Bab el hadid (Cairo Station) (The Iron Gate) Quotes
There are no approved quotes yet for this movie.