Calendar
(1993)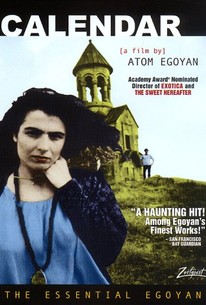 Movie Info
Atom Egoyan casts himself as the lead character in Calendar. He portrays a shutterbug who brings an array of different women to his apartment. Every time one of the women makes a phone call, the character notices a calendar consisting of photographs he took while in Armenia. The film flashes back to the time he took each of the photos. Traveling through Armenia with his wife, he does not share his wife's interest in the history behind the locations he is photographing. The wife eventually leaves him, and the film ends with him attempting to end their estrangement. This project began after Egoyan, whose ancestors were Armenian, was awarded the Special Jury Prize at the Moscow Film Festival for his 1991 film The Adjuster. ~ Perry Seibert, Rovi
Cast

Critic Reviews for Calendar
All Critics (7) | Fresh (7) | Rotten (0) | DVD (1)
Plays as a meditation on the meaning of finding one's roots and identity.
The interactions feel light and improvised, yet the screenplay is well structured.
An interesting portrait of an artist whose detachment from the world and his own experiences has dire consequences.
Audience Reviews for Calendar
This tale of a photographer's deteriorating relationship with his wife is more intriguing for its structure than its plot. Writer/director Atom Egoyan plays a photographer recalling how his marriage unraveled during an overseas trip to shoot old Armenian churches for a calendar. His wife acts as his translator for the journey, but her affections gradually turn from him to their local guide. Since Egoyan's own wife portrays the role and he is of Armenian descent himself, the situation has obvious personal resonances. The story is told via flashbacks, one for each church. The contemporary setting finds Egoyan's post-marital character enduring a string of tedious dates, repeatedly alienating women with awkward conversation and then losing their attention as they excuse themselves to make a flirtatious phone call. As the women chatter away in the next room, he pulls out his writer's pad and the next flashback unfolds. It's eventually suggested that the photographer may be staging this repeated scene -- possibly with prostitutes -- to somehow gain creative inspiration. Typically for Egoyan, the events are more than a little ambiguous and hampered by an atmosphere of numb, repressed introspection. In the case of "Calendar," weak acting is another problem. Still, the film is worth seeing, and it's quite short so it doesn't wear out its welcome.
Eric Broome
Super Reviewer
Egoyan's small indie is about a man on vacation with his wife in Armenia. The two are having problems in their marriage, and the main character suspects his wife is flirting with their tour guide. Told through several scenes that use repetition, and through the perspective of a picture camera, this film can be quite pretentious and annoying at times, but its an extremely unique work, so I recommend it based on that.
Edward Boxler
Super Reviewer
Yeah yeah yeah an early offering from my 'pal' Atom Egoyan. Was this the type of picture that told people that he was prepared for greatness? I don't see it. The worst of Atom's film making abilities are on display here.
John Ballantine
Super Reviewer
Calendar Quotes
There are no approved quotes yet for this movie.