The California Kid
(1974)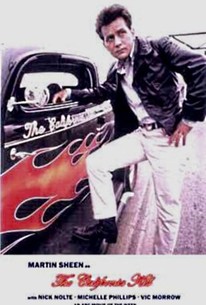 AUDIENCE SCORE
Critic Consensus: No consensus yet.
Movie Info
Martin Sheen is at his most "James Dean-ish" and Vic Morrow at his most sadistic in the made-for-TV The California Kid. Sheen plays a hot rodder whose brother dies at the hands of sheriff Morrow. It is Morrow's habit to punish speeders by deliberately running them off precipitous mountain curves. Sheen goads Morrow into a no-survivors chase up a steep mountain road--where more than a few surprises await the homicidal lawkeeper. Martin Sheen's souped-up, garishly decorated jalopy gives the best and most consistent "performance" in The California Kid.
Rating:
PG
Genre:
, ,
Directed By:
Written By:
In Theaters:
On DVD:
Runtime:
Studio:
Universal TV
Critic Reviews for The California Kid
There are no critic reviews yet for The California Kid. Keep checking Rotten Tomatoes for updates!
Audience Reviews for The California Kid
It's there now, but I remember a few years ago when this movie was being shown on TV and I was watching it every chance I got, IMDB didn't even have it listed, so that tells you how rare/overlooked it is. ...read moreDoesn't matter how underrated or forgotten it is, this is a great movie! The car's awesome, and so is the movie overall. I love the plot of a cop in a speedtrap small town who literally kills speeders but kills the brother of Martin Sheen and now he's out for revenge. I wouldn't mind owning this movie at all one day. If you get the chance, watch it!!
Jason Owens
Super Reviewer
You gotta love 70's made for TV movies. This one has a terrific story, ok performances, and a kick ass car. It is a shame Vic Morrow isn't with us anymore. He is truly one of the biggest losses in movie history.
Mike Nelson
The California Kid is one of the few times I've seen Martin Sheen in his younger days. Sheen in this 1974 made for TV film is basically a thinner version of Emilio and maybe a little more mysterious in his looks..(great hair) Sheen is great in this role where he's a rambling young man cruising the California coast in his souped up hot rod complete with flames and the moniker "California Kid" painted on the the side of the car! Sheen happens upon the small dusty town of Clarksburg. While there he runs head on into the town bully-killer-sheriff!!! The Sheriff played perfectly by a disgruntled and angry Vic Morrow (he's perfect for this role).. Sheen realizes there's more to this bully bad lawman than just his fast cop car with wings like all the old cars used to sport. The sheriff is sporting quite a past and deals with it by killing young folk in some scary ways involving a certain dangerous curve and fast cars... It's not long before Sheen and Morrow's characters lock horns and Sheen finally takes matters into his own hands for justice in what turns out to be a fairly predictable but fun to watch ending. I found myself rooting for the poor town folk terrorized by Morrow's character. This is a super fun film to watch and there's a cool mechanic played by a fresh Nick Nolte who befriends Sheen. I highly recommend this summer hot rod movie that spins you right into a good versus bad scenario from the first scene.
Gary Johnson
The California Kid Quotes
There are no approved quotes yet for this movie.
Discussion Forum
Discuss The California Kid on our Movie forum!