Call of the Forest
(1949)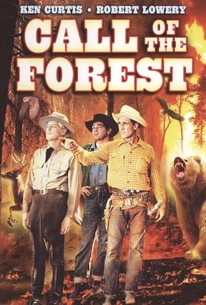 AUDIENCE SCORE
Critic Consensus: No consensus yet.
Call of the Forest Photos
Movie Info
In this youthful adventure, a young boy and a wild stallion, Black Diamond, form an unbreakable bond. It is the boy's father who captured and gentled the remarkable horse. Later, when the father's life is threatened by wicked claim jumpers after his mine, the boy and the courageous horse rush to his aid.
Critic Reviews for Call of the Forest
There are no critic reviews yet for Call of the Forest. Keep checking Rotten Tomatoes for updates!
Audience Reviews for Call of the Forest
Another Mill Creek Western Legends Collection, As a kid, this is the kind of movie I couldn't get enough of - plenty of wild animals and a young protagonist one could identify with. Reminiscent of a couple of TV shows I used to watch back in the Fifties - "My Friend Flicka" and "Fury" - both family friendly shows that featured a boy and his horse. "Call of the Forest" has an unusual mix of players, with Robert Lowery top billed, kind of unusual since he was the main heavy in the picture. Ken Curtis actually might have had most of the screen time if you were to keep track, and it was cool to see him in a decidedly different role from that of Festus Hagen in "Gunsmoke". Curtis displays some talent with his gun twirling routine, and gets to sing a couple of tunes on guitar before he's summarily dispatched by bad guy Harrison (Lowery). I find it somewhat disheartening today when I see a likable character killed off in a story with young kids. Even though this one ended with the villain getting his due, you're left wondering what would happen to Bobby after the final credits roll. The picture also offers a unique close up view of Native American Indian actor Chief Thundercloud. I first became aware of him while watching the original Lone Ranger serials in which he portrayed the original on screen Tonto. His character Stormcloud befriends young Bobby, and offers him a personally drawn map to a legendary Lost Mine that the local ranchers wistfully dream about. For all the attention the mine gets at the center of the story's plot, the picture never winds up with it's discovery. I know it was the fashion back in the Forties and Fifties for a picture to headline it's equine star with top billing. This one introduces Black Diamond as King, the Stallion, but alas, his was a one film career. As it was for Beady the Racoon and Fuzzy the Bear, but I found it interesting that Jimmy the Crow wound up with ten films under his wing 3 Stars
Bruce Bruce
Super Reviewer
Call of the Forest Quotes
There are no approved quotes yet for this movie.
Discussion Forum
Discuss Call of the Forest on our Movie forum!