Call of the Wild
(1935)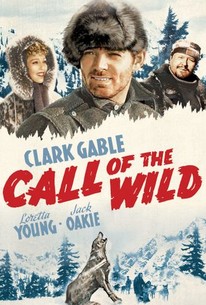 AUDIENCE SCORE
Critic Consensus: No consensus yet.
Movie Info
Featuring Clark Gable and Loretta Young, this loose adaptation of Jack London's classic story is one of the livelier versions of the oft-filmed tale and was shot on location on rugged, snowy Mt. Baker, Washington where cast and crew had to endure harsh winter conditions including blizzards, sub-zero temperatures and difficulty in obtaining supplies during filming. In this version, the role of Buck the dog is diminished and the main focus shifts to the romance between prospector Jack Thornton, and Claire, a young bride who is abandoned in a cabin by her gold-fevered husband. The story begins in Skagway, Alaska where impoverished prospector Thornton loses his mine in a poker game. He then buys Buck, a big dog deemed too vicious for sled pulling. Thorton feels a bond with this dog and with love and patience, earns his trust and retrains him. Buck's cruel former owner Reginald Owen is enraged by this because he wants Buck back so he can kill the dog for mangling his hand. To get him back, he bets Thornton that Buck cannot pull a half ton for one hundred yards. The devoted dog does it and the newly enriched Thorton, his pal Shorty, and Buck set out to find a claim. They run across the half-dead abandoned woman, continue on to an empty cabin belonging to her husband, and then take over his mine, finding lots of gold. Later Shorty heads back for badly needed supplies while Thornton, Buck and the girl remain behind. Romance blossoms at the cabin. Meanwhile, crooks overtake the woman's creepy husband and force him to reveal his mine. He does and they try to kill him. Then they attack the couple and steal the gold. After more excitement, the crooks leave and find final justice during their escape. Later Buck appears and helps to save the fallen husband by leading Thornton to him. After he recovers, his bride decides to return to him and Thornton and Buck are left to await the return of Shorty.
Rating:
PG
Genre:
, ,
Directed By:
Written By:
In Theaters:
On DVD:
Runtime:
Studio:
20th Century Fox Film Corporation
Critic Reviews for Call of the Wild
All Critics (1) | Fresh (1) | Rotten (0)
Jack London's The Call of the Wild has been a difficult book to adapt to film, but this William Wellman-directed entry is still the best. It's probably one of the more interesting films from the first half of the '30s.

Audience Reviews for Call of the Wild
I watched this American adventure film directed by William A. Wellman and starring Clark Gable, Loretta Young, and Jack Oakie, before and decided to revisit it and write this review. Based on Jack London's novel of the same name, the film omits all but one of the book's story lines! This was the third screen version of the popular Jack London's classic adventure story but the first with sound. And where you find Clark Gable, it was impossible not to have a love story (which wasn't in the book). A prospector heading for the Alaska gold fields loses most of his money gambling. His luck changes when he pays $250 for a sled dog to keep him from being shot by an arrogant Englishman, who is also headed for the Yukon. The prospector and his friend head off for the Yukon with a map showing the location of a major gold mine. Along the way, they rescue a woman whose missing husband owned the original map. After the dog wins them a thousand dollars used to purchase supplies, the three continue north in search of the gold mine. There was a lot of real drama connected to this film. This was the last film released under the 20th Century Pictures' banner before it merged with Fox Film Corporation to create 20th Century-Fox, and during the filming of The Call of the Wild, Clark Gable and Loretta Young had an affair that resulted in Young's hushed-up pregnancy and the birth of their daughter Judy Lewis (1935-2011). The film doesn't even come close to the book in quality and excitement, but it is a solid piece of work from its time... especially the first half hour of it! If you want to see a little bit more about the life on the frontier in the US around 1900, not bad for beginners!
faithful to the source material (big surprise) but still a good actioner gable n young have good chemistry and i don't usually care for loretta young.
Greg Wood
½
Very well made, with impressive outdoors shooting and cinematography. Good performances, especially from Oakie in a supporting role. Great pace, always interesting. Well produced and Clark Gable is ideally cast.
James Higgins
Call of the Wild Quotes
There are no approved quotes yet for this movie.
Discussion Forum
Discuss Call of the Wild on our Movie forum!