Call + Response
(2008)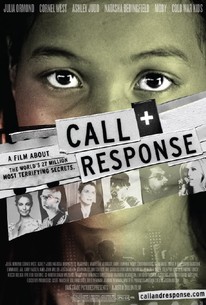 Movie Info
"Call + Response" is a first of its kind feature documentary film that reveals the world's 27 million dirtiest secrets: there are more slaves today than ever before in human history. "Call + Response" goes deep undercover where slavery is thriving from the child brothels of Cambodia to the slave brick kilns of rural India to reveal that in 2007, Slave Traders made more money than Google, Nike and Starbucks combined. Luminaries on the issue such as Cornel West, Madeleine Albright, Daryl Hannah, Julia Ormond, Ashley Judd, Nicholas Kristof, and many other prominent political and cultural figures offer first hand account of this 21st century trade. Performances from Grammy-winning and critically acclaimed artists including Moby, Natasha Bedingfield, Cold War Kids, Matisyahu, Imogen Heap, Talib Kweli, Five For Fighting, Switchfoot, members of Nickel Creek and Tom Petty's Heartbreakers, Rocco Deluca move this chilling information into inspiration for stopping it.
Rating:
PG-13 (for mature thematic material involving crimes against humanity, including sexual enslavement, and for disturbing content and drug references)
Genre:
, ,
Directed By:
In Theaters:
Runtime:
Studio:
Critic Reviews for Call + Response
Audience Reviews for Call + Response
½
This documentary was amazing, but I prefered the music from Cold War Kids, they just so happen to be one of my favorite bands! but the message that this documentary expresses is that even during the 21st century, slavery is still alive and with over 27 million people in bondage around the world, this collection of musicians--including Cold War Kids, Moby, Natasha Bedingfield, Matisyahu, and Talib Kweli,gather together to make a stand for what is right. Even actress Ashley Judd talks about how bad slavery is, but I will admit, Cold War Kids' performance was the best!
Geoff Oldham
After seeing the film, all I can do is spread the word about how horrible this issue of modern slavery is. This film was incredibly well done through the combination of real life stories, interesting and insightful interviews, and incredible music. I can not take this issue off of my heart until things start to change. Go see it. It will change your heart too.
Tammy Smith
This movie was inspiring and heart-wrenching. With the combination of amazing music and genuine stories about vulnerable victims who are in dyer need of attention and help, I have been able to spread the word of this horrible social injustice. I recommend that everyone go and see the film because once you know about the situation, you will never forget it.
Madeline Kramer
Call + Response Quotes
There are no approved quotes yet for this movie.