Callas Forever
(2004)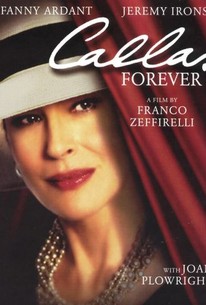 Movie Info
A mournful look at the last days of opera diva Maria Callas, director Franco Zeffirelli's biographical drama attempts to explore the irresistible allure of a comeback for a fallen star who hungers for the success of her past. Weathered from the excess of the previous decade and with her best performances long behind her, Callas (Fanny Ardant) withdraws to her Paris apartment to live her final days in seclusion. Despite being ravaged by a throat disease and being stuck in an extended period of mourning following the death of her true love, Callas' manager Larry Kelly (Jeremy Irons) nevertheless suggests that the former reigning queen of opera attempt a spectacular comeback. Though she is physically unable to perform the pieces the way that she once did, the suggestion to lip-sync to recordings of her previous performances offers a tentative chance for latter day fame. Despite her belief that lip-syncing her performance would be dishonest to her fans, the prospect of performing +Carmen, an opera that she once recorded but never performed on stage, offers Callas one last shot at reliving her former glory.
Critic Reviews for Callas Forever
Audience Reviews for Callas Forever
½
Zeffirelli's tribute to his friend is uneven. The music is wonderful. Fanny Ardant is wonderful as Callas. But, the whole subplot with Jeremy Irons' boyfriend was boring and almost entirely unrelated to the rest of the movie. It would have been more interesting if this had been a full retrospective or had given more time to her trying to recover her voice, but that was kind of glossed over at the end of the film. No matter. I still liked it because I got to hear Maria Callas recordings for almost two hours.
Jeff Bachman
Fantastic!!! I don't know why some many reviewers gave this movie low marks. Franco Zeffirelli has directed some of the most artistic films of the 1960s and 1970s. (and this is one of them!!) I like opera. I love Maria Callas (I have 35 Vinyl lp of her) I love all the films of Franco Zeffirelli. I love the opera Carmen. I love Paris France. I love this film. The film has problems see some of the other reviews. This film is a lavish and loving tribute to Callas who was Zeffirelli's long time friend in Italy and France. MUSIC LOVERS OPERA LOVERS CALLAS LOVERS WATCH THIS MOVIE AND ENJOY!!! five stars
ld pierce
I love this movie! Although I am not an opera fan, Fanny Ardant makes me love Maria Callas' work, her spirit, her legacy! The film is so beautiful, it makes you feel as though you're there!
Randy Bridges
Callas Forever Quotes
There are no approved quotes yet for this movie.
Discussion Forum
Discuss Callas Forever on our Movie forum!