The Caller
(1987)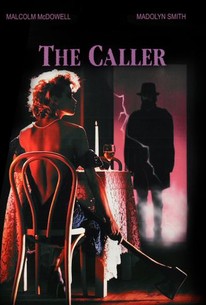 AUDIENCE SCORE
Critic Consensus: No consensus yet.
Movie Info
A stranger visits a woman in her isolated home, and the two begin a bizarre night of mind games in this science fiction thriller.
Rating:
R
Genre:
,
Directed By:
On DVD:
Runtime:
Studio:
Empire Pictures
Cast
Critic Reviews for The Caller
There are no critic reviews yet for The Caller. Keep checking Rotten Tomatoes for updates!
Audience Reviews for The Caller
½
1987 cat and mouse thriller between Malcolm McDowell, who surprisingly gives a solid performance, and his co-star who is better suited for television drama. Even after the explanation is given, there's just too many holes in the plot for me to enjoy this Twilight Zone rip off. But then again, fans of 'The Sixth Sense' didn't seem to care about the grand canyon sized hole in that films plot, so maybe it's just me thinking too much.
Bloodmarsh Krackoon
½
[img]http://upload.wikimedia.org/wikipedia/en/thumb/6/64/Callerposter1987.jpg/220px-Callerposter1987.jpg[/img] Malcom McDowell (A Clockwork Orange) is a confidence man with a tie that overcomes a paranoid woman in a lonesome house. This should have been an Oscar winning performance for McDowell. [img]http://t1.gstatic.com/images?q=tbn:ANd9GcRTSSH_mQjAASZXgKk2rdgwD3CYQ5d5zLr-6KijJrOy-5NEV91B2F-Agswo[/img] This is a two actor, one setting movie. Thats right, two actors in one house. Her house and he's a killer, a con man that gains entry to the house.... or so it appears. [img]http://t1.gstatic.com/images?q=tbn:ANd9GcQmifucOXp-LpNLHpyaW8KkB1vZtYsIfmHe50YtqxwiImssfiTk[/img] A film that comes off a bit TV like in appearance, but even with a scarry night filled with storms and lightening, this woman comes off scared stiff, saying all sorts of paranoid things about him being a killer. [img]http://t2.gstatic.com/images?q=tbn:ANd9GcSN-rffVz2gnzSXIWosVOmBppy-mCVBZAkdtQXxFeM8sdBa_L7QuHVosFXQhg[/img] Just who is killing whom? This is one either really stupid woman or foreward man..... or a really stupid man and forward woman. The movie loses all credibility when she wants this man she doesn't know to stay forever! Pleeeeeeze. REVIEWS: 90% This is a lost treasure that I saw 20+ years ago. Never made it to DVD or streaming online, and even Amazon doesn't seem to have it on VHS. 70% Films involving mind games between a select group of players have always been a favorite of mine..... NOTES: 1 Originally intended for a theatrical release, the film was only shown at the 1987 Cannes Film Market and at the 1987 MystiFest in Italy. On December 27, 1989, the film was finally released in the United States on videocassette by Trans World Entertainment. 2 MGM is now set to release a manufactured-on-demand DVD-R of the film on March 15th, 2011. 3 The special effects were done by FX engineer John Carl Beuchler, known for his long list of film credits including Friday the 13th Part VII: The New Blood, A Nightmare on Elm Street 4: The Dream Master, and Re-Animator. Directed by Arthur Allan Seidelman Produced by Frank Yablans Charles Band (exec.) Written by Michael Sloane Starring Malcolm McDowell Madolyn Smith Osborne Music by Richard Band Cinematography Daniele Nannuzzi Editing by Bert Glatstein Distributed by Empire Pictures Release date(s) May 1987 December 27, 1989 (home video release) Running time 97 min. Country United States [img]http://t1.gstatic.com/images?q=tbn:ANd9GcTqHi61zexvbmEWgFn9trO5OAOioFyBD-f2uOsX-pTq4KWsYH4k8g[/img]
monsieur rick
½
[indent][color=#ffffff][size=-1]Films involving mind games between a select group of players have always been a favorite of mine, from the family angst of [i]Who's Afraid of Virginia Woolf?[/i] to the con game efforts of David Mamet. While 1991's [i]Closet Land[/i] is noted as a high point of two-character cat-and-mouse cinema trickery, most critics ignore [i]The Caller[/i], an underrated little gem that comes off as a predecessor to more recent sci-fi "discover-the-plot-as-it-goes-along" epics as [i]Cube[/i] and [i]Dark City[/i].[/size][/color] [color=#ffffff][size=-1]Madolyn Smith plays The Girl, who begins the movie filling up her gas tank at a self-service pump in a small, seemingly deserted town. Finding nobody attending the counter, she leaves her money at the pump and goes home to a small cottage in the woods after first discovering an abandoned car with a ripped-up doll in the glove compartment.[/size][/color] [color=#ffffff][size=-1]Someone, of course, is watching her. She talks to her daughter on the phone (who appears to be away at school), and opens the door nonchalantly when it's knocked as she's expecting company. No big surprise here—it's the other half of the cast, Malcolm McDowell, in the title role. It seems his car's broken down and he needs to use her phone.[/size][/color] [color=#ffffff][size=-1]Here's where the fun begins.[/size][/color] [color=#ffffff][size=-1]He tells her his story and quickly calls for a tow. She begins to point out inconsistencies in his tales and he parleys back by complimenting her on her observation skills but quickly comes up with a rational explanation. This soon becomes a system, with him awarding her a point for each flaw she finds, allowing her the answers only if she manages to get a total of ten.[/size][/color] [color=#ffffff][size=-1]Their subsequent conversation leads to some serious of mental (and occasionally physical) combat. Is she a killer? Is he? What happened to her husband? Where is the daughter? What's in that oft-seen-but-never-opened hat box?[/size][/color] [color=#ffffff][size=-1]After he leaves, the film cuts to the next day, where The Girl picks up her dry cleaning only to be almost run over by McDowell again. This leads to a harrowing ride through the mountains and, yes, more mind games and some odd sexual situations that just add to the intriguing confusion.[/size][/color] [color=#ffffff][size=-1]The ending, as the cover box promises, is a whopper, and one that seems more obvious upon second viewing. I won't spoil it for you (like Michael Weldon does in "The Psychotronic Video Guide"... nngh) but it does come off as a bit silly, especially if you see this after viewing [i]Dark City[/i].[/size][/color] [color=#ffffff][size=-1]Oddly enough, this exercise in psychological weirdness was made by Empire Pictures, not a company noted for risk-taking. McDowell is always as fun to watch as ever, and his grins give away the fact that he really seems to be enjoying himself in a substantial part. Smith's performance isn't quite the right tone to carry the film (it demands someone with more of an obvious dark side like Linda Fiorentino or Brinke Stevens) but with McDowell on screen, who cares? It also features an uncharacteristically great score by Richard Band.[/size][/color] [color=#ffffff][size=-1]Okay, so it's basically an overlong "Twilight Zone" episode. Okay, so the film could have easily been about twenty minutes shorter. Okay, so the ending is a bit on the goofy side. [i]The Caller[/i] is still a genuinely interesting oddball thriller, and one that deserves a re-release. Anchor Bay? Anyone?[/size][/color] [/indent]
Paul Freitag
The Caller Quotes
There are no approved quotes yet for this movie.
Discussion Forum
Discuss The Caller on our Movie forum!