Calling
(2002)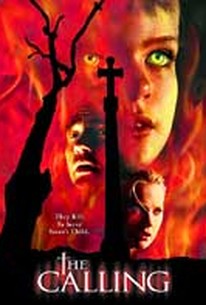 AUDIENCE SCORE
Critic Consensus: No consensus yet.
Movie Info
Rating:
PG (thematic elements)
Genre:
On DVD:
Runtime:
Critic Reviews for Calling
Audience Reviews for Calling
I heard he's got a big heart for guinea pigs A young lady becomes pregnant on her wedding night and later gives birth to a beautiful baby boy. As a child, the boy displays strange abilities that appear to be just oddities. The mother obtains a job that requires lots of travel while the father stays home and maintains the family...with a new woman and a new lifestyle. The mother returns home from her trips and begins seeing a transformation within her family dynamic that she may not approve of. "You can pray for 1,000 years and nothing will ever happen." Richard Caesar delivers The Calling in his directorial debut. The storyline for this picture is an obvious knock off of The Omen with elements of Rosemary's Baby. The kill scenes were better than I anticipated and the acting was worthwhile for the genre. The cast includes Laura Harris, Richard Lintern, Francis Magee, and Christine Moore. "You don't even know my father." I came across this movie on Showtime while flicking through the channels. There were several scenes that caught me off guard and were well presented and Laura Harris delivers a solid performance in the lead role. The movie overall is nothing special unless you're a fan of satanic or cult flicks. "It takes time to think about the future." Grade: C-
Kevin Robbins
There's a reason this movie went straight to dvd folks. Of course this movie's no good, in fact it's actually a pretty terrible movie. I didn't pay one goddamn cent for it because if I had, I'd really be upset. So thank you TMC on Demand for offering me free crappy movies. Sometimes crappy movies are necessary in other to really appreciate the true greatness of great movies, but again, I didn't actually hate this movie as much as the rating seems to imply. Here's my thing with bad movies. I'm more willing to give a low-budget independent movie more a of a slide when it comes to bad movies, because of exactly that, its budget and they don't have a lot of resources to make up for shitty cinematography, a poor script and poor performances so they have to pretty much work with what they have and nothing else. So while I've seen some really awful low budget movies, I'd usually never rank them among the worst movies I've ever seen, unless that movie happened to be a particularly stressful experience. Now on the other hand, when you have a movie that cost $200 million dollars to make, you really HAVE no excuse to produce a shitty movie. You can get top-notch quality talent, some beautiful cinematography, people to revise and improve on your story/script, great special effects if need be. Basically you have all the tools in the world to produce a great movie and then you turn out a shitty movie?? Unacceptable, just unacceptable. So while this movie may be really shitty, I'm never going to say that this movie is really bad, I'm never going to claim it to be one of the worst films I've ever seen because you can pretty much tell that these people were working with limited resources. Transformers 2 is MUCH worse than this movie, in that regard. All the money in the world and you STILL had one of the worst movies of all time. Just offensive on every level. This movie, while with a very stupid plot and narrative, isn't nearly as offensive. It's just a bad, campy horror movie. All I really did was laugh a lot at how campy the movie is at times. Also one thing, I really hate these types of movies where the kids are really annoying (or evil). All I want to do is punch these kids or have Chuck Norris roundhouse kick them upside the head and that will teach these little buggers a lesson. I'm not an advocate of child abuse, I'm just talking about the characters these kids play. I just want to beat them up, yes I said it. So that was one thing I really hated about this movie. The only movie that seemed to do the evil child thing right was the original Omen and more recently Orphan (until the second half of the movie, where all that work is torn apart by moronic plot twists and implausible storytelling). I think I've gone more than long enough on this movie, I thought it really sucked but 90% of these low budget horror movies tend to suck so what can you do. Don't pay for it, hell don't even watch it for free if you can...BUT I'd recommend this movie over Transformers 2 ANY-FUCKIN'-DAY of the GODDAMN week!
Jesse Ortega
Super Reviewer
½
Very much a rip-off of The Omen, but not as well done as that film. Decent production, fine but uninspired acting. It has some eerie moments and some suspense, it's just nothing original.
James Higgins
Calling Quotes
There are no approved quotes yet for this movie.