Calling
(2002)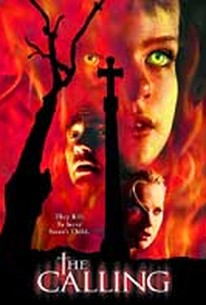 AUDIENCE SCORE
Critic Consensus: No consensus yet.
Critic Reviews for Calling
All Critics (4) | Fresh (1) | Rotten (3) | DVD (2)
Movie cliché #207: All bad kids are possessed by the devil!
February 12, 2002 | Rating: 2.5/5
The Calling offers more than its share of delicious The Good Son fromage. You honestly couldn't expect any more, and shouldn't.
Audience Reviews for Calling
There's a reason this movie went straight to dvd folks. Of course this movie's no good, in fact it's actually a pretty terrible movie. I didn't pay one goddamn cent for it because if I had, I'd really be upset. So thank you TMC on Demand for offering me free crappy movies. Sometimes crappy movies are necessary in other to really appreciate the true greatness of great movies, but again, I didn't actually hate this movie as much as the rating seems to imply. Here's my thing with bad movies. I'm more willing to give a low-budget independent movie more a of a slide when it comes to bad movies, because of exactly that, its budget and they don't have a lot of resources to make up for shitty cinematography, a poor script and poor performances so they have to pretty much work with what they have and nothing else. So while I've seen some really awful low budget movies, I'd usually never rank them among the worst movies I've ever seen, unless that movie happened to be a particularly stressful experience. Now on the other hand, when you have a movie that cost $200 million dollars to make, you really HAVE no excuse to produce a shitty movie. You can get top-notch quality talent, some beautiful cinematography, people to revise and improve on your story/script, great special effects if need be. Basically you have all the tools in the world to produce a great movie and then you turn out a shitty movie?? Unacceptable, just unacceptable. So while this movie may be really shitty, I'm never going to say that this movie is really bad, I'm never going to claim it to be one of the worst films I've ever seen because you can pretty much tell that these people were working with limited resources. Transformers 2 is MUCH worse than this movie, in that regard. All the money in the world and you STILL had one of the worst movies of all time. Just offensive on every level. This movie, while with a very stupid plot and narrative, isn't nearly as offensive. It's just a bad, campy horror movie. All I really did was laugh a lot at how campy the movie is at times. Also one thing, I really hate these types of movies where the kids are really annoying (or evil). All I want to do is punch these kids or have Chuck Norris roundhouse kick them upside the head and that will teach these little buggers a lesson. I'm not an advocate of child abuse, I'm just talking about the characters these kids play. I just want to beat them up, yes I said it. So that was one thing I really hated about this movie. The only movie that seemed to do the evil child thing right was the original Omen and more recently Orphan (until the second half of the movie, where all that work is torn apart by moronic plot twists and implausible storytelling). I think I've gone more than long enough on this movie, I thought it really sucked but 90% of these low budget horror movies tend to suck so what can you do. Don't pay for it, hell don't even watch it for free if you can...BUT I'd recommend this movie over Transformers 2 ANY-FUCKIN'-DAY of the GODDAMN week!
Jesse Ortega
Super Reviewer
Calling Quotes
There are no approved quotes yet for this movie.