Camille Claudel, 1915
(2013)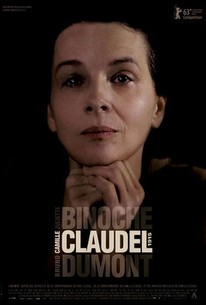 Camille Claudel, 1915 Photos
Movie Info
Juliette Binoche gives a mesmerizing performance as the brilliant sculptress, protégé of Auguste Rodin (and later his mistress), and sister of the Christian/mystic poet Paul Claudel - who, by 1915, was confined to a remote, church-run asylum for the mentally ill near Avignon. Bruno Dumont's rigorous, hypnotic portrait suggests that Camille's intense creativity and bohemian mores were on an inevitable, tragic collision course with her conventional Christian family and the expectations of early 20th century French society. Camille's paranoia (she believes Rodin is plotting against her) and occasional violent outbursts complicate her situation. Dumont peoples his film with real asylum patients, giving the film a disturbingly realistic dimension that adds to its poignancy. (c) Kino Lorber
Rating:
NR
Genre:
Directed By:
Written By:
In Theaters:
On DVD:
Box Office:
$22,540.00
Runtime:
Studio:
Kino Lorber
News & Interviews for Camille Claudel, 1915
Critic Reviews for Camille Claudel, 1915
Audience Reviews for Camille Claudel, 1915
Bruno Dumont's latest film, CAMILLE CLAUDEL 1915, has none of his usual shock value but with total astute subtlety, Dumont creates a breathtaking and quite frightening world where one loses all control over one's life. Juliette Binoche is once again astounding playing a woman trapped in her own mind but perhaps most terrifying, isolated and restrained in an asylum by a world that simply will not understand her. The Claudel of this film is restrained and a true victim of the world around her. Dependent on others for her freedom and sanity. CAMILLE CLAUDEL 1915 depicts a person becoming more insane by the hands of others. It is a film that shakes you to the core.
Michael Lupetin
Camille Claudel, 1915 is a French drama that recounts a week of Claudel's life after she has fallen on hard times following her early years of artistic success and creativity and now finding herself hidden away in a reclusive countryside asylum. Years earlier, Camille had been the celebrated protégé and (later) mistress of Auguste Rodin (the sculptor of 'The Thinker') and they also had a productive, artistic relationship. When it ended, it ended badly as Rodin was never going to leave his wife and things did not go well for Camille who took it all rather hard. Years after the partnership had come to an end, she was still not "herself" and her brother had her admitted to an asylum in Avignon where she seems to always believe Rodin's men are plotting to kill her and her "loving" brother is close-by even though she has practically been abandoned by him. Camille learns early in the film that her brother Paul is coming to visit her on the upcoming weekend and the film is ponderous and slow as nearly every scene captures Juliette Binoche (Chocolat) contemplating an optimistic future she cannot obtain in her present situation. Her future life and happiness hinge upon that "loving" brother of hers who is coming to visit. Binoche captures the role well as the audience sees brief bursts of life and/or hope escape from this asylum resident who clearly does NOT belong where she has been put. This is based upon a true story.
Thomas Williams
a somewhat vague account of the artist Camille Claudel's life in and out of an insane asylum but it does capture the loneliness and sadness of her being there really well.
Mike N.
Camille Claudel, 1915 Quotes
There are no approved quotes yet for this movie.