Camp Fred
(2012)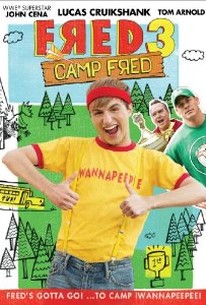 AUDIENCE SCORE
Critic Consensus: No consensus yet.
Movie Info
Schools out and Fred Figglehorn's (LUCAS CRUIKSHANK) dreams of waterslides Clydesdales and waffle bars turn to nightmares of gruel poisonous berries and Crocobearimoose when his mom signs him up to the wrong camp! Stuck at Camp Iwannapeepee Fred is convinced his cabin mates are being poisoned and fed to camp director Floyd (Tom Arnold) -- who's really a Rat Monster in disguise! GHAAAA!!! Not even Fred's uber-cool Dad (WWE- (R) superstar John Cena) can help him escape! Luckily Fred makes new friends and together they battle Kevin's Camp Superior in the 70th Annual Summer Camp Games. Will a rousing speech and an epic musical number be enough to win the competition?
Rating:
NR
Genre:
Directed By:
Written By:
On DVD:
Runtime:
Critic Reviews for Camp Fred
There are no critic reviews yet for Camp Fred. Keep checking Rotten Tomatoes for updates!
Audience Reviews for Camp Fred
When I heard that yet ANOTHER Fred TV movie would air, I knew Fred was screwed. The commercial looked cheesy and unfunny, just like Cruikshank's sitcom "Marvin Marvin". This is disasterous, unfunny, and the worst of the Fred movies. Pray to God that they don't make a Fred 4. The movie has a generic plotline: Fred is excited sbout going to summer camp at Camp Superior where all the popular kids go but his drunk mom enrolled him into Camp Iwannapeepee where all the losers go. Camp Iwannapeepee is the stupidest name for a camp I have ever heard. Why would the founders think "Hmm, Iwannapeepee. Sounds very nice, just really peachy keen."? That's Fred humor right there for you. The whole film is stupid gross out humor like this. So he goes to the camp where his annoying counselor is no other than Tom Arnold and his cabinmates are nerds who have no personality at all except just plain being nerdy. Fred soon finds out that his cabinmates have a secret tree place or something where they eat snacks and play video games, every lazy kid's dream. Around this point, Fred also runs into a "Crocabearamoose" after eating wild berries and sings some rap with him. It's pointless and a "crocabearamoose" sounds like a monster created by a 6 year old in a coloring book. The Camp Superior kids keep picking on Fred's nerdy friends so Fred tries to make his friends believe that losers are cool in a sports movies-like speech. Soon enough, they believe Fred's lie and win a trophy for Camp Iwannapeepee after winning a talent portion of a camp game ceremony with a terrible, terrible rap/pop song. It's a song that can give you a seizure without any flashing lights. It's that bad. So that's pretty much Fred 3: Camp Fred for you. No kid, not even the silliest class clown will laugh once at this piece of garbage. Lucas Cruikshank should go to a comedic writing school because his films are not funny at all and anything he is in literally falls into pieces and is done for. Fred better be reading this and marking my words when I say that Fred movies must end! Save your piece of crap for YouTube, not television. 'Nuff said.
Jordan Krampf
★1/2 (out of four) The one joke annoyance known as Fred is back for a third attempt at a movie. As expected much of a great deal of time is smothered on Fred's high-pitched little girl voice. Most of the humor is pretty juvenile with only a few genuine amusements. The last day of school has finally and Fred is so happy he sings about. The next day he is off to summer camp at Camp Superior. But it turns out to be too expensive for Fred's Mom picks a cheap rundown campnamed Iwannapeepee for Fred instead. He hates it and it gets worse when he finds out that they must have a competition with Camp Superior. With one exception all the Camp Iwannapeepee kids are misfits. Overly silly and overly annoying, Fred is just a character that might be able to pull off a three minte skit, maybe once, but as a it should have been call "Camp Hell". [IMG]http://img.photobucket.com/albums/v48/Zeppo1/Fred_zpsf7c8050d.jpg[/IMG]
Steve Smith
GOOD GOD! THIS CRAP IS EVEN WORSE THEN FRED 2 AND 1! Alright, My burst of rage is over. But man did they screw this up, The plot is c&p from Daddy Day Camp, The kid shows up at a craptastic summer camp and he has to team up with other camp-goers to defeat a much better camp. The fact that it starts off with a musical kills it. Then there is ANOTHER musical at the end! Don't even think about this movie.
Simon Leggett
Discussion Forum
Discuss Camp Fred on our Movie forum!