Can You Ever Forgive Me?
(2018)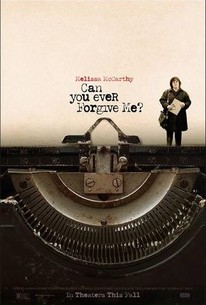 TOMATOMETER
AUDIENCE SCORE
Critic Consensus: Deftly directed and laced with dark wit, Can You Ever Forgive Me? proves a compelling showcase for deeply affecting work from Richard E. Grant and Melissa McCarthy.
Can You Ever Forgive Me? Videos
Can You Ever Forgive Me? Photos
Movie Info
In CAN YOU EVER FORGIVE ME?, Melissa McCarthy stars as Lee Israel, the best-selling celebrity biographer (and cat lover) who made her living in the 1970's and 80's profiling the likes of Katharine Hepburn, Tallulah Bankhead, Estée Lauder and journalist Dorothy Kilgallen. When Lee found herself unable to get published because she had fallen out of step with the marketplace, she turned her art form to deception, abetted by her loyal friend Jack (Richard E. Grant).
News & Interviews for Can You Ever Forgive Me?
Critic Reviews for Can You Ever Forgive Me?
Audience Reviews for Can You Ever Forgive Me?
½
Yes, Melissa McCarthy is great in this, but the thing is-if youâ(TM)ve actually watched all of her broadly comedic stuff-then you already knew she was going to be great in this. McCarthyâ(TM)s always been keen on portraying her characters as largely flawed, but with somewhat extreme defense mechanisms and Lee Israel is no exception. McCarthy isnâ(TM)t as comically broad with Israelâ(TM)s defenses as per her typical roles, but it is the way she conveys the burden Israel feels in having to deal with other people and how she balances it with the confident arrogance Israel carries that McCarthy somehow makes the character endearing thus making Can You Ever Forgive Me? just as endearing. And while we all knew Richard E. Grant was good and as good as McCarthy is in this, it is he who steals the show. Jack. Hock. Is. Fantastic. Also scratches the surface of some really interesting ideas about Israelâ(TM)s most creative endeavor being that of writing through the guise of other people; through people who lived in a period of time when the written word was still respected. Israel was always a writer who wanted her work to be the star, who wanted to disappear behind her prose and thus what occurs ultimately only feels like an eventuality, but the film might have been more thematically substantial had it explored the connection between the themes and its subject a little more.
Philip Price
Super Reviewer
Melissa McCarthy adopts the Oscar bait route of pre-approved credibility, which usually means playing a tragic, self-destructive real-life figure, stripping away any sense of vanity, and working with an up-and-coming indie film director (Diary of a Teenage Girl's Marielle Heller). The recipe is alive and well in the consistently entertaining, but only for so far, Can You Ever Forgive Me? which traces the life of literary author Lee Israel, a biographer who nobody wants to read, that is, until she starts "discovering" lost letters from the likes of Noel Coward, Dorothy Parker, and other famous authors. In total, Israel forged 400 letters and sold them to private collectors and archivists until the FBI charged her with fraud. Because of the relatively low-stakes nature of her accidental jaunt into criminality, the "how" is less interesting than the budding friendship formed between Israel and a malcontent bawdy barfly/partner in crime (Richard E. Grant). Their rapport is wonderful and they truly seem to be having a ball with their ill-gotten gains, yet they still maintain a vulnerability even to the very end. In many ways this film does for McCarthy and her standard barrage of caustic, anti-social characters what Punch-Drunk Love did for the Adam Sandler introverted goofball sad-sack barely concealing his explosive rage. It's a grounded deconstruction on that familiar movie archetype we've seen from a popular comic actor. There are some interesting aspects about Israel's lonely life, like a timid female bookshop owner who circles around a potential romance with Israel, but it's really a two-hander of a movie between Grant and McCarthy. Can You Ever Forgive Me? is a slight character-driven drama with comedic elements, but McCarthy shows that she has the acting chops to play multi-faceted characters in any genre if given the right opportunity. Nate's Grade: B
Nate Zoebl
Super Reviewer
½
This could easily be the title of McCarthy's autobiography as she recounts all that crap roles she took after Bridesmaids and rediscovers her acting chops in this gem. It truly captures the spiraling torment of a career on the wrong side of the curve with a dark and snowy NYC as its backdrop. Grant, as Israel's only human connection, sashays through the film with a veneer of bravado and devil-may-care panache and is a perfect foil for McCarthy. Well played indeed! (11-10-18)
Can You Ever Forgive Me? Quotes
There are no approved quotes yet for this movie.