Candy Stripers
(2006)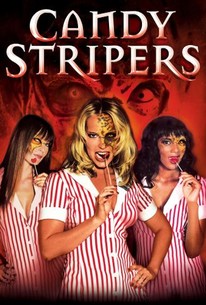 AUDIENCE SCORE
Critic Consensus: No consensus yet.
Movie Info
When a college basketball player suffers a debilitating injury during an out-of-town game, his trip to the hospital is only the beginning of his nightmare in this tale of terror from beyond the stars featuring special appearances by Playboy Playmates Deanna Brook and Serria Tawan. Upon being admitted to the small-town hospital, injured athlete Matt is placed in traction and told to remain as still as possible. His supportive teammates residing faithfully by his bedside, Matt begins to get a bad feeling about his stay as the once-friendly candy stripers soon begin to experience a dark transformation. Now, as the men of the hospital slowly succumb to a seductive force from outer space sent to Earth for the explicit purpose of breeding, Matt must convince his friends that something is amiss and find a way out of the strange infirmary before his friends and himself end up wrapped in a restrictive, cocoon-like substance and are forced to give birth to a new race of horrible, human-alien hybrids.
Critic Reviews for Candy Stripers
All Critics (2) | Fresh (0) | Rotten (2) | DVD (1)
While you may never be surprised while watching Candy Stripers, you probably will not be bored, either.
June 28, 2006
The flick's about killer nurses, and the DVD cover says "They're running out of patients." This obvious little pun is cleverer than anything hidden within Candy Stripers' 80-some minutes of running time.
Audience Reviews for Candy Stripers
½
Alien parasites who propagate by slithering from mount to mouth during lesbian kisses infect sexy candy stripers at a hospital. Naughty but basically harmless fantasy for teen boys; not enough skin or sin for peeping Toms, not enough thrills or chills for anyone else.
Candy Stripers Quotes
There are no approved quotes yet for this movie.