Candyman
(2011)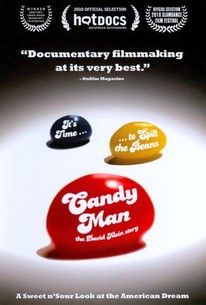 AUDIENCE SCORE
Critic Consensus: No consensus yet.
Movie Info
In 1976, David Klein was a candy distributor who had a brainstorm -- make the world's best jelly beans, and create a store just to sell them. Klein came up with new recipes for jellybeans that used natural ingredients and flavored the inside filling as well as the shells. Several years later, Klein's Jelly Belly jelly beans were on the market, and while business was slow at first with a little press attention and an unpaid celebrity endorsement from then-president Ronald Reagan, the gourmet jelly beans became a massive success. However, while Klein was a great candy maker, he wasn't much of a businessman; he was pressured into selling the Jelly Belly trademark to the company that manufactured the candy just as the product was taking off nationally, and not only was he cut out of most of the profits, he's been written out of the company's history, with no mention on their website of the man who created their signature product. Filmmaker Costa Botes profiles David Klein and tells the strange story of how the man behind one of the greatest success stories in the sweets industry lost control of his brainchild in the documentary Candyman. Produced by David Klein's son Bert Klein, a successful filmmaker and animator, Candyman was an official selection at the 2010 Slamdance Film Festival.
Rating:
NR
Genre:
,
Directed By:
In Theaters:
Runtime:
Studio:
The Orchard
Critic Reviews for Candyman
All Critics (2) | Fresh (1) | Rotten (1)

In Candyman, Jelly Belly creator David Klein is at once energetic, enthusiastic, and self-effacing.
Audience Reviews for Candyman
½
It wasn't bad, I just don't think that this subject needed an entire documentary devoted to it.
Sarah Prisbylla
Super Reviewer
½
Early in Candyman, the wonderful documentary from Costa Botes, David Klein, the inventor of Jelly Belly gourmet jellybeans makes an admission - "I regret the day I came up with them, I really do. Why? Because they ruined my life." For the rest of the story, we learn how that could be so - how the invention of a candy that revolutionized the industry - and made millions of dollars - could be seen as a curse to the man who should have become Willy Wonka incarnate. In the early 70's, David Klein graduated from the UCLA law school. He was a brilliant student, but forsook the law for his true passion - candy. He threw himself into the business, applying the same brilliance that catapulted him to the top of his class to the sale and distribution of candy and nuts. Before long, he was a fixture in Southern California, an honest, hard-working man, who not only sold candy, but also dreamed up new products. In 1976, the Jelly Belly was born - and should have died a quick death - but Klein's chutzpah, mixed with hard work and serendipity, combined to overcome the initial obstacles and become a cultural phenomenon when Ronald Reagan made them a staple of his White House. In all of this there was Klein, tirelessly (and shamelessly) promoting the product for anyone willing to cover it. It's often at the moment of our greatest achievement that the seeds of our destruction are born, and such is the case with Klein. Around the time of the Reagan endorsement, demand for Jelly Bellies was such that there was a one-year wait-list. Klein's manufacturing partner wanted to expand their factory, but without ownership of the Jelly Belly trademark, financing was iffy. The CEO called a meeting to attempt to buy the company from Klein, and in a decision that, from the comfort of my couch, is insane, Klein sold out for 4.8 million dollars - without a lawyer present to represent him. At the time, Klein was young and had an elderly partner that was ready to retire. He figured there would be other genius ideas, but to-date, they haven't arrived. Instead, Klein sank into depression, having sold off his baby at a ridiculously under-valued price. It's a fascinating piece of storytelling. Candyman could easily be seen as tragedy, but for the spirit of its subject. Klein's son Bert co-produced the movie, which explains the volume of home movies, photographs, and interviews with family and friends that exude a labor-of-love quality. What emerges is a kind, honest, resilient family man who has spent his career putting others first, even to his own detriment.
scott slucher
I love the documentary channel! You feel so much for this well meaning creative genious. I know he has to be far happier in the end then the corporate raiders that took advantage of him. Odd addition of Weird Al though...kind of makes you wonder how he got involved. I want some Jelly Bellies now.
Tammie Kaufman
Discussion Forum
Discuss Candyman on our Movie forum!
News & Features