Cannibal
(2008)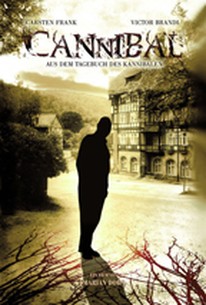 AUDIENCE SCORE
Critic Consensus: No consensus yet.
Movie Info
An internet advertisement placed by a cannibalistic madman brings yields a willing victim all too happy to serve up his own flesh in this dramatic account of the crime that shocked the world.
Rating:
R (for perverse violence and sexuality/nudity, and for some language)
Genre:
,
Directed By:
In Theaters:
On DVD:
Runtime:
Studio:
Lionsgate
Audience Reviews for Cannibal
½
Cannibal is a difficult film to rate and an even more difficult film to watch. I will admit that I turned it off about twenty minutes before it was over due to the twin feelings of boredom and revulsion, a pair of feelings that I am not sure I have experienced before while watching a film. For starters, Cannibal is not for the squeamish or homophobic. On the other hand, if you seek out the transgressive in your cinematic experiences, then Cannibal might just be your thing. Although again, even though I am neither squeamish nor homophobic, I still found the film to be boring and disgusting without ever developing any real point or meaning the journey worthwhile. In general, when I watch exploitation, transgressive, or horror cinema, I expect it to use the disgusting elements of the plot for one of two reasons: the film must either have a point or it must be entertaining to watch. Ultimately, I cannot rate Cannibal very highly because it fails on both these fronts. It is not fun to watch in any sense of the word and it never uses its disgusting elements for any purpose unless it perhaps to explore the darker side of human desire, fetishism, and obsession. All that being said, I still admire Cannibal for its guerrilla attitude towards filmmaking: it never holds back or censors itself neither on the aesthetic or gruesome level. It's aesthetic is rather striking. I follows in the vein of the minimalist, clinical films of Michael Haneke, particularly films like The Seventh Continent, Benny's Video, 71 Fragments of a Chronology of Chance, Funny Games, and The Piano Teacher. It also reminds me of Takashi Miike's Visitor Q, a similarly difficult film to sit through but one that ultimately has an underlying object of critique that makes it worthwhile. But most of all Cannibal reminds me of the films of Jorge Buttgereit: Nekromantik, Nekromantik 2, and Schramm. But ultimately, Buttgereit's Nekromantik films are grossout, Freudian comedies that lampoon art films as they simultaneously participate in their aesthetic. Dora adopts a very similar aesthetic approach to Buttgereit: dialogue is minimal while sounds and the score take up most of the sound space. Also, Like Haneke Dora adopts a clinical perspective on its subjects: the camera never seems to judge the actions of the characters--it simply depicts them to the audience. Furthermore, Dora adopts an extremely methodical pacing that almost never seems to cut away in order to condense time. We experience major events in almost real time, which is probably what ultimately makes the film so hard too watch. Dora never allows us to take our eyes away from what is happening. The camera stays on the butchery. But ultimately, Dora's aesthetic aspirations fail because the film just becomes boring as we wait for something to happen and what happens is relatively a minimal series of actions that are simply prolonged past the point of bearing. Cannibal doesn't feature anything that I haven't seen elsewhere--well, one thing--it runs through the list of exploitation staples: castration, defecation, evisceration, cannibalism, etc. Plus, it very unabashedly depicts male nudity and gay sexuality in a way that would never be seen in American cinema, although the film's inclusion of its extreme form of fetishism (cannibalism as a sexual act) makes the sex scenes difficult to watch as well even if you are not homophobic because the film conflates acts such as fellatio with the actual eating of the penis. I am not averse to films that feature such elements. Some of my favorite films are Irreversible, Thriller, Cannibal Holocaust, Salo, etc. But those films either have a purpose or they are at least fun to watch. Cannibal is exploitation with aesthetic aspirations, but it ultimately fails to do anything meaningful, which makes it just an unbearable hour and a half of cinema. I do admire it for its balls-out attitude towards filmmaking, but I cannot genuinely recommend except to those, like myself, who crave the more extreme ends of transgressive cinema.
Al Miller
½
This movie was almost hard for me to watch and that's saying something since I feel I can watch anything. I've never seen gay porn before so watching this movie kinda reassured me that I'll probably not go that route, but again, I'll watch anything. Based on the true story of the crime that shocked the world, two men meet through the internet and wilfully play the roles of cannibal and victim. This is one of the ugliest films I've ever watched in my movie viewing years. This movie is not for the faint of heart. Cannibal wins "Banned Film" title in Germany...think about that.
El Hombre Invisible
Super Reviewer
½
Another version of the Armin Meiwes story, except this one IS the ground-breaking film I expected from this story. The mix of sound and image is positively hypnotizing, and the little dialogue there is has been expertly placed. Once we do get dialogue, this is the high caliber of it: "I'm your flesh." This is the film Grimm Love aka Rohtenburg wanted to be (see my review of it for more info). Where Grimm Love failed with minimalistic dialogue and scenes that attempt to convey unspoken layers of emotion, this film exceeds expectations. The connection between the two actors is nearly tangible, and I'm glad that there is a version of this story wherein the director is not afraid of male nudity and gore, especially for the crucial biting scene. The castration and cooking scene are even more explicit, enough to satisfy my sick curiosity about this story. And my question of "did he cut off just the dick or the balls as well?" is answered. I was disappointed that there was no dialogue about the penis being overcooked, but both characters suggest it by their dislike of the taste and inability to chew the meat. The bathtub scene is strikingly simultaneously tender and disturbing and a brilliant cinematic achievement. The butchering scene is the pinnacle of disturbing cinema. The settings are unbelievably realistic and the room where the main event occurs is a perfect amplification of the anxiety, despair, and desire between the two characters. This is the definitive extreme film with male homosexuality. This is on par with "Trouble Every Day" when it comes to the sublimely troubling mixture of sensuality and cannibalism. Never before has a film been so grotesquely beautiful. "Hot Gay Sex" commentary: yet another selection where the steamy sex happens alongside a MUCH more severe taboo, this time of cannibalism "So Fucked Up" highlight (this film has quite a few): vivid penile bleeding after the unsuccessful biting, the fluids flowing into the jar immediately following the castration by knife, carrying the leaking and defecating nearly-dead body through the house, the butchering scene with the cannibal sensually worshiping the internal organs, the "morning after" breakfast
_kelly .King
Super Reviewer
Cannibal Quotes
There are no approved quotes yet for this movie.