Cannon Movie Tales: Rumpelstiltskin
(1986)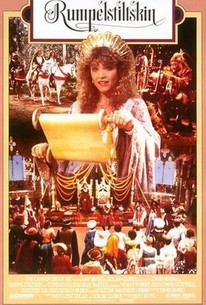 AUDIENCE SCORE
Critic Consensus: No consensus yet.
Cannon Movie Tales: Rumpelstiltskin Videos
Cannon Movie Tales: Rumpelstiltskin Photos
Movie Info
In this musical children's fable, Rumpelstiltskin enables the miller's daughter Katie to spin straw into gold in order to win the love of the Prince. After the marriage, the nasty gnome abducts Katie's first-born child. Rumpelstiltskin agrees to give the child back if Katie can guess his name.
Rating:
G
Genre:
, , ,
Directed By:
Written By:
On DVD:
Runtime:
Studio:
Live Home Video
Audience Reviews for Cannon Movie Tales: Rumpelstiltskin
She can spin straw into gold. A poor but beautiful girl lives with her father in the forest. They meet the prince and they become smitten, but the king demands an amazing task be completed to earn his son's hand in marriage. He demands she weaves straw into gold after the girl's father alludes she is capable. The girl is locked in a room and given one night to complete the task. She sits in the room with no idea how to conquer this task until a magic man of sorts appears and promises to complete the task for a small fee, and unimaginative fee. Will the girl succumb to the price of the strange man or be beheaded by the king? "The last man who said 'but' had his head chopped off." David Irving, director of CHUD II, Night if the Cyclone, Good-bye Cruel World, The Emperor's New Clothes, and Sleeping Beauty, delivers Rumpelstiltskin. The storyline for this picture is interesting and fun to watch unfold. The musical numbers are mediocre but the acting is fun and entertaining as were the settings and costumes. "The devil told you that!" I came across this on Netflix and thought it had potential as an interesting period pierce of a classic tale. It was pretty good and worth a viewing. It was far from a classic movie, but it tells the story well in an entertaining way. I recommend watching this once. "If I am this nice, there will be a price." Grade: C+
Kevin Robbins
½
The title character of this now famous fairy tale is a seemingly helpful dwarf who shows his true colors for the worse when a favor he does for another is not repaid. Played with relish by the late Billy Barty, Rumpelstiltskin talks and rhymes his way through this kitschy, low-rent musical. Disappearing and reappearing at will with a cackling laugh and an obviously wicked sneer, the infamous elf comes to the aid of an unfortunate miller's daughter imprisoned by a greedy king who tasks the lass into spinning straw into gold. Impossible, one would obviously say, but it turns out that the elfin creature can indeed pull off the trick -- provided he is rewarded for his services. But when the girl becomes a princess and is advised to give up her first child to the greedy midget, she is tasked to guess his name in three days time to spare her offspring from slave labor. The outcome is not hard to guess, but such is the nature of a fairy tale. A good story, no doubt, but one that's best suited for a shorter medium than an 83-minute film, much less one with cheap production values and a fair smattering of cheesy moments as opposed to sincerity. Aside from Barty, who is dead on in the lead role, the rest of the cast is very strange; Amy Irving doesn't feel right as the miller's daughter, and Clive Revill chews so much scenery as the king (especially during his insufferably awful "Greedy" song) that it's hard to take him seriously, even for a fairy tale character. John Moulder-Brown is a rather bland love interest as well. The performance I liked the best was that of a mute little servant girl who aids Irving later in the movie, but this movie isn't about Shakespeare quality acting. The songs are a mixed bag as well. Some are pleasant enough, with Barty's brief but devilish ditty being particularly fun, but the lyrics are often corny and lack substance. To its credit, this movie does remain faithful to the tale, but it's a B-movie picture at best. It's moderately enjoyable, nothing else.
Jon Turner
Rumpelstiltskin definitely had some interesting chracters but failed to impress me on a couple of different levels.
Travis McKellar
Cannon Movie Tales: Rumpelstiltskin Quotes
There are no approved quotes yet for this movie.