Captain Apache (The Guns of April Morning) (Deathwork)
(1971)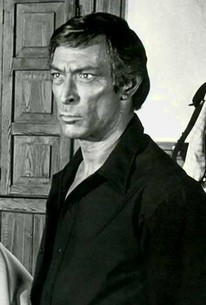 AUDIENCE SCORE
Critic Consensus: No consensus yet.
Captain Apache (The Guns of April Morning) (Deathwork) Videos
Captain Apache (The Guns of April Morning) (Deathwork) Photos
Movie Info
A Native American working for the government must investigate the Indian Commissioner's death. Soon he uncovers the schemes of a wealthy land owner and an assassination plot which will further victimize the local natives. ~ Kristie Hassen, Rovi
Rating:
R
Genre:
, ,
Directed By:
In Theaters:
On DVD:
Runtime:
Audience Reviews for Captain Apache (The Guns of April Morning) (Deathwork)
It's the spirit that dances, not the man Captain Apache is an Indian that has severed in the military and believes in equality. When his general is mysteriously murdered he begins investigating the rationale for the treacherous act. He discovers the general's dying words involved April 1st. Can Captain Apache uncover the mystery of the general's murderers and enact revenge with little assistance from anyone since he is an Indian? "The only good Indian is a dead Indian. The only good pale face is a dead pale face. Love thigh neighbor." Alexander Singer, director of Glass Houses, Love has Many Faces, Psyche 59, and A Cold Wind in August, delivers Captain Apache. The storyline for this movie is interesting and well paced. The action scenes are entertaining and the acting is solid for the genre. The cast includes Lee Van Cleef, Carroll Baker, Stuart Whitman, and Dan van Husen. "Why do you always insult men that might kill you?" "I like to be a man that enjoys his work." Lee Van Cleef is an actor we recently began following due to his outstanding western pictures. While generally a villain, he is the main character and hero in this picture. Regardless of being a good or bad guy, Van Cleef always delivers a gritty character that is tough and hard to predict. There were a couple awkward scenes that prevented this from being an all time grindhouse classic, but this is a must see for fans of westerns. "You shot me in my ear." "You call that shot?" Grade: B (7.5)
Kevin Robbins
Grade C western with cheapo sets and some ridiculous 70's mind bending thrown into its uninteresting mix. Carroll Baker's part is a nothing and her makeup is strictly late 1960's glamorous, hardly fitting to the western setting. The musical score is awful!
Captain Apache (1971) Wow! This is another nail in the coffin of the Spaghetti Western from the early 70s. This movie, based on S.E. Whitman's (is that Stuart Whitman's?) novel, has Lee Van Cleef singing the theme songs, "Captain Apache" and "April Morning". Filmed in Spain with an international cast. The director, Alexander Singer, probably should have stuck to doing TV series, because he did a terrible job making this movie. It's very poorly made and edited. The movie that I saw was full screen from a wide screen original, so people's faces tend to run off the edge of the scenery. The movie starts out really, really bad and, with time, becomes curiously watch-able. Captain Apache (Lee Van Cleef) is a native American Army officer, investigating the murder of an Indian Affairs Commissioner. What's curious is that the Commisioner's dying last words were april morning, and somehow that's so important that everyone who seems to know what april morning means is killed before they're able to tell the Captain. Somehow this is all tied together with the local sheriff's deputies, a gun runner named Griffin (Stuart Whitman), some of his men (of dubious loyalties), as well as some Mexican calvary, and some beautiful young ladies, Maude (Carroll Baker) and Rosita (Elisa Montés). Somehow, I think that this movie could have been done so much better than it was, but Lee Van Cleef makes it reasonably watch-able.
Rick Rudge
Discussion Forum
Discuss Captain Apache (The Guns of April Morning) (Deathwork) on our Movie forum!