Captain Clegg (Night Creatures)
(1962)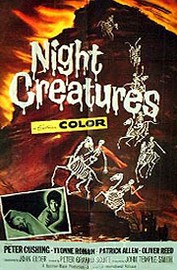 AUDIENCE SCORE
Critic Consensus: No consensus yet.
Movie Info
In this engaging costume melodrama of skulduggery on the low seas set back in the 18th-century, the swamps of a small seaside town and the nocturnal activities of the towns' men provide the atmosphere and action. The Royal Crown suspects a bit of smuggling is going on in this locale, and they send Captain Collier (Patrick Allen) and his crew to check it out. As the Captain gets into his investigation, mysterious swamp phantoms cloud up the real issue which seems plain enough to see. Captain Collier suspects that the odd village vicar (Peter Cushing) might be hiding something, and what better way to do that than by fortuitous ghosts to scare away the curious -- or by posing as someone he is not? ~ Eleanor Mannikka, Rovi
more
Cast
News & Interviews for Captain Clegg (Night Creatures)
Critic Reviews for Captain Clegg (Night Creatures)
All Critics (1) | Fresh (1) | Rotten (0)
Unleashes Hammer's trademark Gothic style on a dynamic genre mix: part pirate film, part smuggler thriller, part shadowy small-town crime conspiracy.
Audience Reviews for Captain Clegg (Night Creatures)
½
Nice setting, a thrilling though predictable story, and fun effects. The night creatures are kind of left out for most of it, but there's a interesting pirate/settler sub-story that leads to some neat thrills. Cushing has a more unique, though not terrible far from his others, role.
½
Hey! Wait a second! This isn't a horror movie. It's a pirate movie. I think truth in advertising has to be brought into question here. Hammer's trying to pull a fast one as there is nothing in this movie that is scary in the least. But this is a really good tale about a little town and its struggle to survive the unfair taxation of its citizenry by the Government. And as boring as that sounds, nothing could be further from the truth.
The whole thing starts with a very effective scene of a crewman on the ship of the feared Captain Clegg. The crewman is being punished for apparent wrongdoings. His ears are slit, his tongue is cut out and he's left on an island to die. This set up really engages you and starts the movie off on a high note. Next, we see visions of skeletons on horses who scare an old man to death in the marshes surrounding the town.
After that strong opening, we meet up with Peter Cushing as the spiritual leader and minister of a local church. From that point on, the movie belongs to Cushing. His performance is as good if not better than anything else I've seen him in. His role here is totally different than his horror performances. Here, he is practically a secret agent, as he plots and carries out masterful schemes to thwart the King's army. Eventally we are treated to Cushing in a fight that is worth the price of admission. There is much else to like here. Oliver Reed as Harry Crabtree and Yvonne Romain as the gorgeous Imogene come to mind.
The story carries with it a mild twist that brings everything together nicely. Much of the dialogue is effective in that it sets up a lot of suspicion and distrust that pays off as the plot progresses. There aren't a lot of special effects and the "night creatures" are actually pretty sloppily done. But they're practically unseen so their overall effectivenss is minor to the advancing the story.
If you watch "Night Creatures", don't expect the typical Hammer horror experience because it isn't here. What you will encounter though, is a really enjoyable tale with elements of suspense, thrills and even a fair bit of action.
Whit whitsbrain
Discussion Forum
Discuss Captain Clegg (Night Creatures) on our Movie forum!
News & Features