Captain Fantastic
(2016)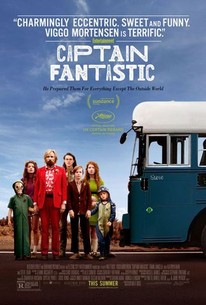 TOMATOMETER
AUDIENCE SCORE
Critic Consensus: Captain Fantastic's thought-provoking themes -- and an absorbing starring turn from Viggo Mortensen -- add up to an above-average family drama with unexpected twists.
Movie Info
Deep in the forests of the Pacific Northwest, isolated from society, a devoted father (Viggo Mortensen) dedicates his life to transforming his six young children into extraordinary adults. But when a tragedy strikes the family, they are forced to leave this self-created paradise and begin a journey into the outside world that challenges his idea of what it means to be a parent and brings into question everything he's taught them.
News & Interviews for Captain Fantastic
Critic Reviews for Captain Fantastic
Audience Reviews for Captain Fantastic
½
This father's education methods are hilarious and a conservative's nightmare. They make for the most funny parts of the film, but there are plenty of thought-provoking scenes too. Mortensen deserved his Oscar nomination in the lead role, dominating every beautifully shot scene, although all other performances are great too. The result is a quirky comedy drama that clearly wanted to walk in Little Miss Sunshine's shoes but ends up a tad too pretentious in its final act. Still, very enjoyable and entertaining.
I have said this many times this year and I will say it again. The independent circuit has owned 2016 in terms of quality content. Hollywood productions have hit a snag and really only delivered a few great films. Captain Fantastic is another indie film that should be on your radar if you are trying to come up with a list of favourites for this year. For film lovers, storytelling doesn't get much better than this. You'd think that a film that shows absolutely no backstory on a character who has passed away, immediately demanding audiences to feel emotions for a character they haven't seen before would be jarring and off-putting, but this film pulls off quite a few impossible plot elements. Harnessing its weird and off-beat characters, Captain Fantastic is both a quirky film as well as a dark comedy at times. Here is why I love this film so much and why it is one of the best films of the year. Beginning with the death of their mom, six children, along with the supervision of their father, continue to live in the forest together, where they had been nursing their mother to better health. Home-schooling them and teaching them the harsh reality of the outside world, this father may just be the best thing or the worst thing for his kids. From being unwanted at her funeral to being inappropriate at family dinners, this is just about the most off-putting, yet charming family you will see on screen this year. Emotionally satisfying from beginning to end and told through such finesse that even the most casual moviegoer may even be moved by this story. It may seem like a simple and quirky little tale, but the filmmaking aspects are what elevate this film, which was already wholly original to begin with. When it comes to performances in movies, there are some that are terrific, but are placed in a lacklustre films, others that downgrade a films quality, due to the miscasting, and others (in the case of Captain Fantastic) that make a great film even better. I was able to buy into this premise from the very beginning, being a very open-minded film goer, but Viggo Mortensen's performance throughout this film is transcending. I loved every moment of this picture and his performance only added to that greatness. From tearing up at the precise moment to add more emotion, to being completely stoic in instances that required him to, I felt like I was watching a man that had accepted the loss of his wife, but was still so devoted to her, that he would do whatever it took to complete her last will in testament. What does it take for you to remember a specific moment from a film? Does it take Darth Vader revealing that he is Luke Skywalker's father? Or how about John Bender pumping his fist to close out the film The Breakfast Club? There are so many iconic moments in film history and although some may not agree with me, I have added a specific moment from this film to my favourite and most effective scenes of all time. It occurs a mere ten minutes into this film, so it is definitely not a spoiler. It happens right as their father Ben delivers the news that their mother has died. Normally a director would be able to grab a few tears from child actors and make it seem believable, but all six children ball their eyes out as if they had actually lost a family member in real life. Holding on their faces as the music swells just enough without getting sappy, this is one of the most effective scenes I have ever witnessed, when talking about finding out that another character has passed away. This may just be me, but I found this scene to be truly remarkable. Look, I may be a sucker for independent films, but it is kind of hard to deny that this year has been the year for independent films. The greatest films of the year are all underground for the most part. Captain Fantastic joins the club of films with a story worth telling. With superb direction in getting incredible performances out of everyone on screen (the kids included) and a script that flows very naturally, this truly is a film that shouldn't be missed. For everything this film sets up in the first act, I felt like everything was wrapped up beautifully in the final moments of this picture and it the tears of joy didn't stop. Captain Fantastic is fantastic to say the least.
In a year vastly consisting of the superhero (take your pick), the sequel (Independence Day: Resurgence), the reboot (Ghostbusters) and the disappointing (Hail, Caeser!), 2016 was beginning to have a very underwhelming vibe and lack of originality. Leave it then to the indie circuit to take a firm hold of the fading year and offer the best film so far. It's with absolute conviction that I can say that, actor turned director, Matt Ross has finally delivered a film that satisfies and resonates. Admittedly, there has been the occasional delight in 2016 but none more delightful than Captain Fantastic. Plot: Distant from the constructs of societal pressures, Ben Cash (Viggo Mortensen) dedicates his life to teaching his six children how to become well-rounded and intelligent individuals while living in the forests of the Pacific Northwest. However, when a family tragedy strikes, Ben and his brood are forced to leave their self-sustainable home and experience the outside world which brings new experiences and challenges for the reclusive family. It's often said that you shouldn't judge a book by its cover but in the case of Captain Fantastic I had already done so. Last year, I came across a still from the film and the photo spoke volumes to me. After hearing some positive word-of-mouth, I had an underlying feeling that this was a film I would really enjoy. A film that looked like it had something to say. I awaited its arrival with great anticipation and I can now confirm that it was worth the wait. It's not unlike Wes Anderson's work in its look and it's approach. It shares similarities with the dysfunctional family of The Royal Tenenbaums or the cross-country, brotherly relations of The Darjeeling Limited. It's as vibrant in its colourful pallet and as deep in it's characterisation and commentary on achieving a meaningful existence. It's no surprise to hear that this is a biographical account of director Matt Ross' own experiences. It feels authentic and his affection and understanding of the characters, and their moral standpoint, shines through. There's a political edge and intelligence to the film. The unorthodox family live their lives by the philosophy of Plato's The Republic and have regular discourses on dialectical materialism. Mortensen's Ben talks with his oldest son, Bo (George McKay), about whether he's expressing Marxist or Trotskyist views and encourages his other children in the works of Dostoyevsky's The Brothers Karamazov and Vladimir Nabokov's Lolita. They embrace Buddhism as a philosophy and reject any form of organised religion. At one point they even question why they should celebrate Christmas, preferring instead to celebrate "Noam Chomsky Day" where each child receives a gift on the birthday of the intellectual historian and political activist. Needles to say that this is a family who reject capitalism and the consumerist construct that it has birthed. They prefer their off-grid, nonconformist living and struggle to adapt to society when they are finally forced to confront it. What's interesting, though, is that Ross doesn't play this entirely one sided. He does actually question Ben's motivation and his responsibilities as a parent. He pairs him with a very different patriarch in Frank Langella's wealthy, capitalist father-in-law who obviously doesn't approve of Ben's freedom of expression or alternative parental views. The theme of the film is about striking a balance in life and that's exactly what Ross achieves in the structure of his film; it's about the intellectual and the cultural, awareness and ignorance and he manages to bring an emotional sensitivity to the proceedings without being overly sentimental. As mentioned it has a distinct Wes Anderson flavour but it's also a reminder of the same misfits of Little Miss Sunshine. Where that film created its characters to be dysfunctionally comedic, Captain Fantastic's feel more authentic and three-dimensional. Spearheading them is an absolutely outstanding Viggo Mortensen. There's a subtlety and depth to his performance and he captures the nuisances of being a strong-minded and arrogant individual while also affording a tender and loving fatherly figure to shine through. It's not flashy and there's no grandstanding involved. Mortensen's too wise and too good an actor to even have to do that and it's in his subtlety that he allows the space for his young co-stars to have their moment too. It's a confident but very unselfish performance that anchors the entire film. A poignant social commentary that benefits greatly from all its little quirks and attention to detail that capture the essence of life itself. It's funny, heartbreaking and uplifting all in equal measure and (like Mortensen's sublime lead performance) Matt Ross delivers it with both hard truths and a loving affection. A beautiful film. Mark Walker
Mark Walker
Super Reviewer
Captain Fantastic Quotes
There are no approved quotes yet for this movie.