Captain Horatio Hornblower
(1951)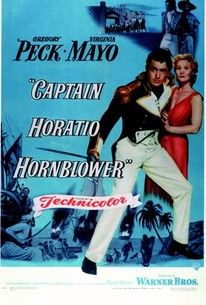 Captain Horatio Hornblower Videos
Captain Horatio Hornblower Photos
Movie Info
This swashbuckling high-seas drama, set in the early 1800s, finds its hero caught up in the shifting political tensions between Spain and England and in his own growing relationship with Lady Barbara Wellesley.
Critic Reviews for Captain Horatio Hornblower
Audience Reviews for Captain Horatio Hornblower
A classic, but most copies cut out some of the movie. Guess they figure people have no desire to see the original classic movie.
Virginia Davis
½
Captain Horatio Hornblower Really elaborate costumes with realism. The Point is made that Gregory Peck was the lowest in grade for sword fighting he has not sword fought since used last in school and does not plan to use sword fighting any further on his journey. The film is Almost making a point that he is no Errol Flynn. Gregory Peck is no one like Errol Flynn as far as the behavior of women. Gregory Peck is almost A Captain Picard figure rather than a Captain Kirk. The point is constantly made that this is a ship of war. Two women board ship as passenger after delivered by a Spanish crew. Crew been continually at sea for 8 months from England to Pacific South America in chase of French Napoleonic ship. The ships and musical score are amazing. The ship battles were pretty good even if they over steered and over kill on explosives. I think it is great that a great deal of this film is filmed on location. However something is lacking in this film as far as the characters go. With the exception of the leads there is something lacking as far as depth and believability in the surrounding characters and crew. Also the chemistry between characters is not at its full potential I believe. Besides that the rest of the film works.
STCENTERPRISE .
Decent filming of one of the C. S. Forster novels with a bit more romance than would normally be found in the books in the person of Virginia Mayo. High production values and solid acting make this very entertaining although the BBC series starring Ioan Gruffudd as Hornblower is still the very best version of the books.
Captain Horatio Hornblower Quotes
There are no approved quotes yet for this movie.
Discussion Forum
Discuss Captain Horatio Hornblower on our Movie forum!