The Captain's Paradise
(1953)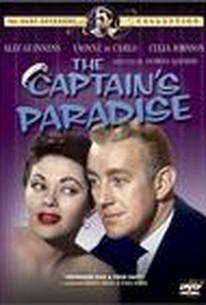 AUDIENCE SCORE
Critic Consensus: No consensus yet.
The Captain's Paradise Photos
Movie Info
In this bright British comedy, we meet Capt. Henry St. James (Alec Guinness) as he stands before a firing squad and then learn of the curious chain of events that brought him to his fate. Henry is a ship's captain ferrying a steamer between Gibraltar and North Africa on a regular basis, and he's taken the notion of "a girl in every port" to a whole new level; he has a wife on each side of the water. In Gibraltar, there's Maude (Celia Johnson), an even-tempered housewife who keeps the house tidy and has dinner ready when Henry likes it. In North Africa, mate number two is Nita (Yvonne DeCarlo), who is a sultry fun seeker who likes to hit the nightspots and dance 'till dawn. Between the two of them, Henry would seem to have the best of both worlds; Chief Officer Ricco (Charles Goldner) openly envies Henry's remarkable romantic situation. But things start to go sour when Maude suddenly decides she's a stick in the mud and wants to start living it up, while Nita becomes a homebody and begins learning to cook; Henry is none too happy about either development, and before long he finds he has no spouse on either shore. The Captain's Paradise was trimmed from 93 to 84 minutes for its initial United States release. ~ Mark Deming, Rovi
Rating:
NR
Genre:
,
Directed By:
In Theaters:
On DVD:
Runtime:
Critic Reviews for The Captain's Paradise
Audience Reviews for The Captain's Paradise
½
"The Captain's Paradise" starts with Henry St. James(Alec Guinness) calmly asking the firing squad to please hurry up as he has other places to be, while matter of factly refusing a blindfold. His uncle Lawrence(Miles Malleson), who just missed Henry, is told by Henry's now former Chief Officer, Ricco(Charles Goldner), how he came to be in such a predicament. It may not surprise some that it involved a woman, namely Henry's lover Nita(Yvonne De Carlo), as Ricco recounts happier times like their second anniversary in North Africa. On the other side of the Mediterranean in Gibraltar, where his crew has not been granted British visas to disembark, Henry celebrates his third anniversary with his wife Maud(Celia Johnson). Even though it is more windup than payoff, "The Captain's Paradise" is still a witty and breezy farce that is ahead of its time in exploring gender relations. Here, the joke is on Henry as he underestimates not one but two women which while certainly no record is still very impressive.(Relax, I don't think I'm giving anything away by saying that since we do know he will end up in front of a firing squad but how he gets there might surprise you.) Henry might think of his life as perfect, containing the best of all worlds, including male camaraderie, and, admittedly, it is a rather clever idea. But if he were as smart as he thought he was, then he would have found a cure for cancer.
Cute comedy, Guinness is smooth as always, Yvonne DeCarlo besides being stunning proves herself adroit at comedy.
½
Beofre she was Lily Munster; before he was Obi-Wan Kenobi. Back in the days when she was typecast as a sultry spitfire; back in the days when he was typecast as a debonair wit. Sir Alec Guinness plays Captain Henry St. James, a man with what he thinks is a brilliant idea. He decides that he needs two wives. One will be a housewife, mother of his children, the staid Englishwoman his upbringing has trained him to desire. The other will be a party girl, a wild and carefree, even tempestuous, creature who will go drinking and dancing with him until all hours. This will work, because they're at different ports, and he will sail between them, and everything will be fine! Of course, it isn't. Even if it weren't totally obvious from that plot summary, we do see him in front of a firing squad at the end of the film. We are told his story by his former second-in-command, who is relating it to his uncle. Besides, it [i]is[/i] totally obvious that something will go hideously awry, probably in a wacky sort of way. Hilarity totally ensues--well, it's a Sir Alec Guinness comedy. Meaning that it's also peculiarly British hilarity. Staid hilarity, if that makes any sense. Mostly, we see Sir Alec twitch a lot whenever something happens to bring his ideal life into danger. Interestingly, what makes it fall apart in the long run is that he doesn't actually bother getting to know either woman. He decides who they are and proceeds accordingly. He actively works to suppress any personality traits that he doesn't want them to show. Leaving aside the whole bigamy thing, that is [i]not[/i] something on which to base a positive relationship.
Edith Nelson
The Captain's Paradise Quotes
There are no approved quotes yet for this movie.