Caramel
(2008)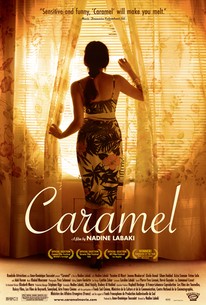 Movie Info
A Beirut beauty salon serves as a microcosm of modern society in director Nadine Labaki's look at liberated conversation in a conflicted society. Over the course of their day it becomes readily apparent that women are truly the same everywhere, regardless of the society they live in. While single Layale struggles with her growing attraction to a married man, Muslim bride-to-be Nisrine fears that her husband will find out that she has already lost her virginity, and Rima wages a futile war against her lesbian instincts. As with many women who frequent the salon, Jamale does everything within her power to reverse the visible effects of aging. As Rose laments the fact that she has sacrificed her own happiness in order to care for her older sister, the intimate conversations shared over the course of a typical day reveal just how universal the lives, loves, and concerns of contemporary women truly are.
People Who Like this movie also like
News & Interviews for Caramel
Critic Reviews for Caramel
Audience Reviews for Caramel
Despite the unrealistically attractive cast, perhaps excessive oestrogen and its deliberate angling to an international audience - I thoroughly enjoyed this film! Doesn't hurt that I watched it with two girlfriends in our room in a monastery in Bsharre, northern Lebanon. Nadine Labaki executes her multiple love stories with wryly humorous dialogue and surprising sensitivity and gently challenges the viewer with a light twist on familiar tropes. I sorely needed this contemporary view to break my stereotypes of Arab countries, and along the way found it an interesting critique of the lack of private spaces for young women in Lebanon. And Joanna Moukarzel has some pipes on her! Bottom line: If you want to watch a film about Lebanon that doesn't involve war, "Caramel" is a moving, laugh-out-loud funny comedy with plenty of eye candy.
Letitia Lew
Super Reviewer
½
I have been wanting to see this one since I first saw it advertised a few years back. Just seemed to be one that I never came across at the video store, or remembered to look for. When it was finally shown on SBS a few months back, I taped it, and, you guessed it, forgot all about it! Finally stumbled across it again today, (gotta love a public holiday), and finally I can say I have seen this lovely movie. I heard it described as a very romantic film. It is and it kind of isn't. Though there is a lot of romance and romantic themes in it, it is firmly based in reality. There is potential for almost all in this film to have a romantic ending, but not all get it........SPOILERS........ Particularly sad in the case of the older lady caring for her old mother with dementia - you literally see her lose her courage. Pretty heartbreaking to think she missed her last chance at happiness, but on the other hand, you have to admire her selflessness in choosing to care for her mother. Mostly this follows the lives and friendship of four women and is based around the beauty salon three of them work in. It is set in Beirut, which also gives this movie a little something extra - I found this both exotic and totally alien to my own life. You could say this is a far cry from a friendship movie such as the Sex & the City films. This somehow had more substance, while still being quite a feel good movie. The main character Layale is involved with a married man, which obviously leads to tears. She becomes obsessed with his wife, Christine, who is such a lovely person even Layale kind of likes her, much to her confusion. Meanwhile, Layale can't see that the policeman who works across the road is secretly in love with her and a really nice guy. Nisrine is about to be married and has a secret - her husband is not her "first" (I can't imagine this being a scandal in a SATC, but here it is, again, very different culture), and she decides to take some extreme action to hide her secret. Rima is a lesbian and is attracted to a beautiful customer to the beauty store. This relationship is implied more than seen, but done nicely. I guess maybe that would be more scandalous in this culture also. And Jamale is an ageing aspiring actress who is divorced and feeling her age so badly she has resorted to taping her face and lying about still getting her period to make herself seem more youthfull. Her audition screen test is funny and also heartbreaking. I really felt for all the women in this movie. Really, really beautifully written characters and story and leaves plenty to your own imagination and interpretation. I will definitely be adding this one to my collection!
Nicki Marie
Super Reviewer
This movie surprised me. I did not expect too much when I walked into the cinema, but i really enjoyed it, a very bitter sweet touch...
Janice Yan
Super Reviewer