Carandiru
(2004)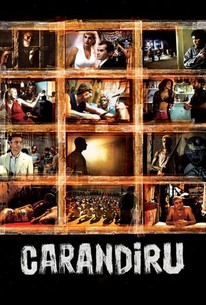 Movie Info
In a cell inside São Paulo's House of Detention, better known as Carandiru, two inmates have a score to settle. The atmosphere is tense. Another inmate, Black Nigger, a kind of "judge" for settling disputes among prisoners, solves the case in time to welcome the Doctor, who has recently arrived--eager to begin an AIDS-prevention program in the penitentiary. The Doctor is faced with extremely serious problems inside this place, known as Latin America's largest jail: overcrowded cells, decaying facilities, diseases such as TB, leptospirosis, cachexia, and the beginnings of an AIDS epidemic. The inmates have access to neither medical care, nor legal assistance. Carandiru, with upwards of seven thousand prisoners, is a huge challenge for the newcomer. But after working there for a few months he perceives something that will transform him: the inmates, even in this appalling situation, are not demonic figures. In his daily contacts with the prisoners who see him in his makeshift office, the Doctor witnesses solidarity, organization, and above all, a great will to live.
Critic Reviews for Carandiru
Audience Reviews for Carandiru
A breathtaking film, that talk about prisoners with AIDS, life in prison, prejudice and homosexuality. All seen by the doctor Drauzio Varella. A true story based on the book Estação Carandiru. Shocking!
Lucas Martins
Super Reviewer
This is worth all 2 hours and 28 Minutes of your time. The best movie I've seen in a while and one of the top's when it comes to English Subtitles. This movie is in Portuguese Language so you will have to follow along the subtitles if your knowledge of that language is as limited as mind. This is a collection of life?s in a prison in Brazil, thru the life of a doctor from that prison. This movie should be watched by everyone that?s in a jail or prison in the US, just to see how good you have it here. This movie kept me glued to the screen. I have no idea how this movie got on my list, where I read the review or saw the preview, but I am glad I did. Its a must see and outstanding movie, NOT A DOCUMENTRY, a good movie. 5 stars and I haven't given that out in a while.
Bruce Bruce
Super Reviewer
½
This film reminds me a lot of Elephant (a little movie made by Gus Van Sant), not because they're similar movies but the structure and how the both movies build up to ONE moment...the turning point, if you will. The only difference between Elephant and Carandiru was how both get to the turning point. Because Elephant was just boring as hell, it barely had any dialogue and unfortunately the only really good part about that movie was the last 15 minutes and it really does pain me to say that and the people who've seen Elephant know what I'm talking about. But this movie's much, much different than Elephant, because how the movie gets to the turning point is damn excellent...and I was never bored...and that's saying something because elephant was about 80 minutes long and this movie is about a full hour longer than Elephant yet I was never bored by Carandiru...perhaps that's because the little sub-plots and backstory to all the inmates are really interesting and it helps you to at least care for some of the characters even if they are 'criminals'. My main complaint is with some of the backstory for the characters and how they just sort of jump into the backstory with no real reason, Zico's and Deusdete's backstory is the prime example of this, because for some reason the set-up for the backstory was somewhat forced, in my opinion. Same goes for the Lady Di and Too Bad (i think that was his name) romance subplot. It just seemed that they were made into a couple just to show that polar opposites can get together and be in love, not that there's anything wrong with that, but their 'love' didn't seem all that natural to me. Though I will say the 'wedding ceremony' between the two was really well done and dare I say, actually romantic. The last 20 minutes of the film were the main selling point for the movie I'm assuming, and while they were well done and shot, it really does show police brutality at its worst. This is an excellent movie though and while it's not as awesome as City Of God, that isn't necessarily a bad thing cause not a lot of movies are better than City of God, this is still an easy recommendation in my opinion.
Jesse Ortega
Super Reviewer
Carandiru Quotes
There are no approved quotes yet for this movie.
Discussion Forum
Discuss Carandiru on our Movie forum!