Card Subject To Change
(2011)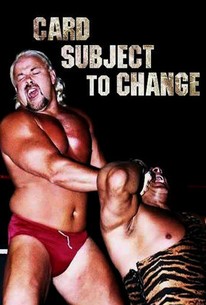 AUDIENCE SCORE
Critic Consensus: No consensus yet.
Card Subject To Change Photos
Movie Info
While everyone is familiar with the glamour and glotz associated with professional wrestling, far fewer are aware of the men and women who toil away in regional promotions, never seeing themselves on TV. This documentary shines a light on those performers who are in the squared circle every day in front of small-town audiences who are often just as involved as the fans that flock to Wrestlemania. The directors talk to a number of these performers including Lacey Von Erich, Sabu, and "The Taskmaster" Kevin Sullivan. ~ Perry Seibert, Rovi
Critic Reviews for Card Subject To Change
There are no critic reviews yet for Card Subject To Change. Keep checking Rotten Tomatoes for updates!
Audience Reviews for Card Subject To Change
½
If you arenâ(TM)t into the world of Pro Wrestling there is a very good chance you will never watch this, if you are a casual fan you might end up overlooking this documentary because its primary focus is on Pro Wrestling indy scene. If you are a pro wrestling fan then there is a good chance you have seen Barry Blausteinâ(TM)s Beyond The Mat which is still considered to be on of the best Pro Wrestling documentaries available. I myself was a fanatic at one point and even co-ran an indy promotion myself once upon a time so I am familiar with this world. I have seen quite a few internet documentaries on indy wrestling and a few that have popped up on MTV or AMC. Card Subject To Change starts off much like those documentaries does. A million things Iâ(TM)ve seen before and a focus on a lot of people I didnâ(TM)t really care for but as the film went on it expanded out a bit and really showcased a lot of once big wrestling names. The larger story line seemed to revolve around wrestler Trent Acid and his eventual spiral out of control ultimately ending in his death as a result of drugs. In some ways it parallels Beyond The Matâ(TM)s arc with Jake Roberts and while Acidâ(TM)s moments werenâ(TM)t as captivating or surreal as its counterparts it is no less sad. This isnâ(TM)t as good as Beyond The Mat is, the film makers arenâ(TM)t as skilled at telling a story through their work but that shouldnâ(TM)t be taken to mean that I donâ(TM)t recommend this. Beyond The Mat was great and Card Subject To Change is really good. If you consider yourself a fan then this is a must watch.
Anthony Lewis
Super Reviewer
Card Subject To Change Quotes
There are no approved quotes yet for this movie.
Discussion Forum
Discuss Card Subject To Change on our Movie forum!