The Care Bears Movie II: A New Generation
(1986)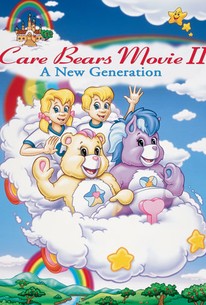 AUDIENCE SCORE
Critic Consensus: No consensus yet.
The Care Bears Movie II: A New Generation Videos
The Care Bears Movie II: A New Generation Photos
Movie Info
True Heart Bear and his close friend Noble Heart Horse struggle to defend the Kingdom of Caring from the evil plotting of the nefarious (and uncaring) Dark Heart. This extremely sugary children's animated sequel was inspired by a popular line of stuffed toys.
Audience Reviews for The Care Bears Movie II: A New Generation
½
It doesn't take much to show you care! Darkheart is a villain that uses his powers to manipulate children into not caring and living a life of evil. He wishes to set the Earth into a state of darkness and evil. The Care Bears, and their cousins, will work with two orphans to try and stop him. Unfortunately, Darkheart has a shadow that works in his image that will separate the Care Bears and leave them vulnerable. Will they be able to stop the mighty Darkheart? "What good is all of your love, your caring, if you cannot save this child?" Dale Schott, director of The Admiral and the Princess and episodes of the television series Babar, Ewoks, and Rubert, delivers Care Bears II: A New Generation. The storyline for this picture is fun for children and I remember loving it when it first came out (I had the green Care Bear with the clover for good luck, that was always my favorite). The animation is solid for the time and feels very 80s. "We care!" I remember loving this when I was a kid and I was very excited to watch this off Netflix with my daughter. I can tell you that she loved this movie and was always upset when I had to shut it off so she could go to school (it took 3 morning to watch the entire thing ?). Overall, this is a fun to watch with your child and borderline worth adding to your DVD collection. "What have I done?" Grade: B-
Kevin Robbins
To call CARE BEARS MOVIE II an official sequel to its predecessor (hardly an example of great filmmaking, but pleasant enough for children) would be misleading. The movie is rather bizarrely disconnected from the events of the first film, and that's one of its biggest problems; the Care Bears and Cousins meet each other for the first time in the previous film, yet in this all of them are shown to grow up together in a place called the Kingdom of Caring, almost as if to make viewers forget the first film. That would make this a technical prequel, but the better term for it would be rehash/remake. The time gap logic is also strange: in one sequence the Care Bears and Cousins "grow up" in less than two minutes (to a saccharine musical number) yet the children on earth are still the same age. Continuity issues aside, the film looks pretty much what you'd expect for a movie of this kind: cheaply animated and with characters that are, at best, indistinguishable. That said, this sequel does have its points of interst. The focal plot involves an unlucky camp girl who enters a Faustian bargain with Dark Heart (a shapeshifting menace who primarily appears as a cloud of smoke but mostly as a devilish-looking camper boy). Dark Heart, incidentally, isn't altogether evil: (spoiler) at the end he is shown to have a heart (hah!) and is reformed. That's something that rarely happens in childrens' films, much less ones based on merchandising toys. However, the "breaking the fourth wall" moment where the Care Bears ask the audience to show how much they care in order to revive a fallen victim is too goofy to be believable or effective. CARE BEARS MOVIE II is passable for undemanding kids, but that's all it is.
Jon Turner
One of the worst movies from my childhood, this has terrible animation, dull characters, bad pacing, an incomprehensible plot, and the worst voice acting for an animated film. I hated the film as a child and I will never see it again.
Matthew Blasch
The Care Bears Movie II: A New Generation Quotes
Discussion Forum
Discuss The Care Bears Movie II: A New Generation on our Movie forum!