Cargo
(2010)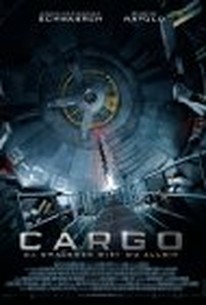 AUDIENCE SCORE
Critic Consensus: No consensus yet.
Movie Info
A woman traveling through deep space discovers a secret with deadly implications in this Swiss sci-fi drama. It's the year 2267, and Earth's environment is near the point of total collapse. Many have fled the Earth to live on Rhea, a beautiful planet with an atmosphere and ecosystem similar to our own, but it's in a distant solar system and travel there is expensive. Laura Portmann (Anna-Katharina Schwabroh) is a doctor trying to raise the money to relocate to Rhea, where her sister is already living; she takes a job with Kuiper Enterprises aboard the Kassandra, a battered space freighter making a run to a far away space station. It takes eight years to travel from Earth to the space station, and most of the crew spends their time frozen in artificial hibernation, as crewmen taking turns working an eight and a half month shift while conscious. As Portmann watches over the ship alongside security marshal Samuel Decker (Martin Rapold), who protects the ship from technophobic terrorists, she is convinced something is alive and making trouble in the Kassandra's cargo hold, and becomes concerned enough to wake Captain Lacroix (Pierre Semmler) and his men from their artificial slumber. While Lacroix is certain Portmann simply has an overactive imagination, in time it's revealed someone on board the Kassandra possesses a dangerous secret. Cargo was the first feature film from directors Ivan Engler and Ralph Etter; featuring impressive special effects despite a relatively low budget of $4.8 million, Cargo earned enthusiastic review from European sci-fi fans before making its American debut at the 2010 South by Southwest Film Festival.
Critic Reviews for Cargo
All Critics (3) | Fresh (1) | Rotten (2)
what begins as an atmospheric mystery ends disappointingly as a connect-the-dots action piece, far too drearily literal to be all in someone's head.
September 5, 2010
In space, it may well be that no one can hear you scream... but just about anyone who has seen any of the major space-set or futuristic thrillers from the past few decades will find the cliches of the genre ringing out in this Swiss sci-fi.
Audience Reviews for Cargo
A solid and virtually unknown sci-fi thriller that can hold its own with films coming from the big H and even surpasses many shallow action flicks both in scope and storytelling. The films draws a long arc from an eerie space-hulk thriller to a nigh-surreal vision of a dystopian future. Unfortunately, as interesting as the ponderings on the fate of mankind get towards the end of the film, it also loses its velocity and focus, so artfully created in the first two thirds through the minimalist set design and horror, not unlike Alien. The downfall of the film is that is loses its edge in the forced attempt to put a heavy coating of icing on the cake, covering what was a solid basis in the first place. Yet, apart from that, the only fault I can find with this film are technicalities, such as the abyssmal acting on the female lead and a script that is but funcitonal in conveying the necessary information but lacks any form of verve or added characterisation. Hence, the film does create a story that comes to live within a setting that serves as a mere backdrop instead of world that appears real enough to actually give birth to such a scenario. All in all, this is a hidden gem for fans of the genre and solid sci-fi entertainment as a whole, if you can forgive some of the acting efforts and the ending.
Henrik Schunk
Super Reviewer
½
A decent spaceship based thriller from the Swiss. The first two thirds of the film, do create an eerie atmosphere and then later tension between the crew. Sadly got a bit weaker towards the end. It does have some good effects for the low budget and set design. Similar in parts to Pandorum, Solaris, Sunshine, if you like those check this out!
½
The film starts with beautiful shots of a field. The cinematography is crisp and stunning. A woman wonders through and feels the plant life around her. The sound of a buzzing insect fades in perfectly with the music. As wonderful as the opening is, it feels like an advertisement. Which is exactly what it is. The camera pans out and we see that this is a floating billboard for a wonderful place. This beginning highlights one of my favorite things about this Swiss made, German language film. It assumes the audiences' intelligence, and doesn't resort to lengthy exposition. This billboard clearly illustrates that there is somewhere being presented as a paradise and so anyone well-versed in film will realise that Earth is probably uninhabitable. The next shot takes us through a gigantic, cylindrical, space station/city. It looks so alive. Quite the achievement on a low-budget. Once again this suggests that people are not living on Earth. As the film progresses it does fall into some cliches, and the ship/tension is similar to many classic sci-fi films. Luckily it does it all so well. Engler and Etter are clearly visual film-makers, resulting in a treat for film fans.
Luke Baldock
Super Reviewer
Cargo Quotes
There are no approved quotes yet for this movie.