Carnival Magic
(1981)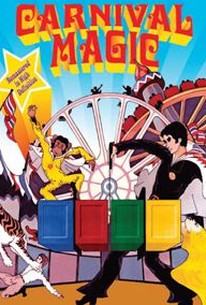 AUDIENCE SCORE
Critic Consensus: No consensus yet.
Movie Info
Markov the Magnificent (Don Stewart) is a magician in a small circus whose main asset is his talking chimpanzee, Alexander the Great. The magician's life is without any gray clouds; he even has some romantic interests. But then his famous monkey is chimp-napped by the dastardly lion tamer who intends to hand him over to a doctor for some very nasty experiments. Now Markov has to come up with a plan to save Alexander -- and his livelihood in the bargain.
Critic Reviews for Carnival Magic
All Critics (2) | Fresh (2) | Rotten (0)
I'm not suggesting Carnival Magic is a good film, but I will admit to delighting in its peculiar behavior and bootleg turns of plot. Did I mention the talking chimp?
Audience Reviews for Carnival Magic
½
I don't know which is my favorite feature of this film: 1) the totally random moment when a shirtless dwarf says "Hi, Sheriff!" It's his only line. 2) how the carny owner Stoney's mood is indicated by whether he's smoking a cigar or not (cigar = happy). Such a strange film. TCM billed it as a movie for children, but its tone is far too downbeat for kids. And then the talk of vivisection? Oh yes, young Bobby and Sally will love that. The enormous-breasted assistant who spends the whole film spilling out of her top is another problem. Otherwise, lead actor Don Stewart gives a surprisingly solid performance, considering what he has to work with (a terrible script and an equally terrible supporting cast). And the muttering voice of the monkey Alex is actually more "realistic" than you would expect, if you accept the premise of a chimpanzee who has barely crossed over into speech capabilities. On the other hand, the general reaction to a talking monkey (essentially "Oh, neat!") is nothing like what it should be.
Eric Broome
Super Reviewer
Before I watched Carnival Magic, I looked it up on the internet & found out it was originally a made for kids movie.It's definitely not a great movie but it is weird & interesting especially the talking monkey so it's worth watching
Brody Manson
Super Reviewer
Carnival Magic Quotes
There are no approved quotes yet for this movie.