Carol's Journey (El Viaje de Carol)
(2002)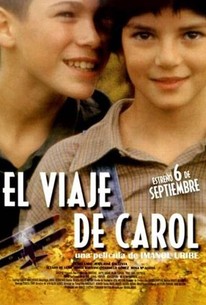 AUDIENCE SCORE
Critic Consensus: No consensus yet.
Carol's Journey (El Viaje de Carol) Photos
Movie Info
Spanish director Imanol Uribe examines social upheaval as it relates to a young prepubescent's life in his 2002 coming-of-age tale Carol's Journey. Twelve-year-old Carol (Clara Lago) is accompanying her mother Aurora (Maria Barranco) to Spain to visit her mother's native village as the Civil War is tearing the nation apart. Carol's life is an emotional roller coaster, as her American-born father -- with whom she is extremely close -- has been away for quite some time, serving as a pilot in the International Brigades. Furthermore, Aurora recently received a terminal diagnosis for the illness she has been battling and could die at any moment. As Carol struggles with these issues as well as the acceptance of the new environment she has been cast into, she gains perspective from her gentle grandfather Amalio (Alvaro de Luna) and the village teacher Maruja (Rosa Maria Sarda), as well as an unexpected first love with local boy Tomiche (Juan Jose Ballesta). Adapted from Angel Garcia Roldan's novel A boca de noche, Carol's Journey was an official selection to the 2002 Montreal World Film Festival.
Critic Reviews for Carol's Journey (El Viaje de Carol)
All Critics (1) | Top Critics (1) | Fresh (1) | Rotten (0) | DVD (1)
If nothing else, watching the photogenic Clara Lago as Carol, the engaging Juan Jose Ballesta as Tomiche, the veteran Alvaro de Luna as Amalio and the talented Rosa Sarda as Maruja make up for some of the mistakes.
Audience Reviews for Carol's Journey (El Viaje de Carol)
½
Really slow, but it was worth it. Great story.
Leigh Ryan
Super Reviewer
A great movie. Even a twelve-year-old tomboy can change the people around her. Carol moves to rural Spain during the Spanish Civil war. You can't help loving the kids in this movie.
[font=Century Gothic]"Carol's Journey" takes place in 1938 as Aurora(Maria Barranco) arrives back in her old hometown in Spain with her young daughter, Carol(Clara Lago), after many years of living in New York to visit her father(Alvaro de Luna). Aurora was estranged from her family after renouncing her fiance to marry an American who is involved in the fighting, returning only after the death of her mother. As she tells her friend, Maruja(Rosa Maria Sarda), she has returned because she is dying...[/font] [font=Century Gothic][/font] [font=Century Gothic]"Carol's Journey" is an adequate coming of age tale that is nowhere near the level of Guillermo del Toro's excellent movies set around the Spanish Civil War. While having little to do with the war itself, the movie exploits its juvenile characters in the cause of peace which is normally a noble sentiment but the Spanish Civil War was one of the very few wars where there was something worth fighting for. In the end, the movie is redeemed by one absolutely wonderful scene and a slightly unexpected climax. [/font]
Carol's Journey (El Viaje de Carol) Quotes
There are no approved quotes yet for this movie.