The Carpetbaggers
(1964)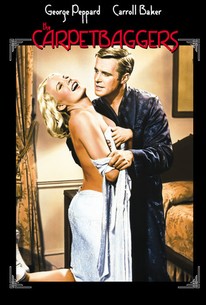 Movie Info
Set in the '20s and '30s and based on Harold Robbin's book, this drama chronicles the life of millionaire Jonas Cord, Jr. (George Peppard) who inherits his father's business and who has no scruples in romance nor business until his older friend, Nevada Smith (Alan Ladd--whose performance here was his last) knocks some sense into him. Robbins insists that his story was not based on the life of Howard Hughes.
Rating:
PG
Genre:
, ,
Directed By:
Written By:
In Theaters:
On DVD:
Runtime:
Studio:
Paramount Pictures
Critic Reviews for The Carpetbaggers
All Critics (6) | Fresh (2) | Rotten (4) | DVD (1)
The sleazy pulp film was a blockbuster smash hit upon its release, proving to Hollywood that bad taste pays big dividends.

Ozus' World Movie Reviews
One of the all-time great potboilers featuring a powerhouse performance by the always underrated George Peppard.
The film was a blockbuster back in 1964 and could have been seen as the last word in silver screen sleaze ... at least as far as mainstream America was concerned.

Audience Reviews for The Carpetbaggers
A forerunner to Aviator, this film has an unlikely George Peppard AND Alan Ladd dominating in this 1964 huge hit. A grand expose of ambition and unhappiness at the top in the 30's. It has been described as a Howard Hughes bio-drama by Harold Robbins * . And what a climax this films has! Stay with this and watch the fight, the brutal fight between Alan Ladd and Peppard. It's one for the ages! SEE the trailer here: www.youtube.com/watch?v=atBdy_7hoWo [img]http://t0.gstatic.com/images?q=tbn:ANd9GcSMvpaKvof1n2HLkAAirjW6PjDJqdMaQxUIU4l-m95iW1Hy3mX8[/img] This film alone probably set the stage for some of television's biggest night-time hit soapers like DALLAS, in particular. Television however already had its huge hit night soaper in the early sixties, Peyton Place, which was the beginning of Ryan O'Neil's (Paper Moon) career. SEE THE FULL FILM HERE: http://www.youtube.com/watch?v=kVG1T0fVh3c&list=PLA9A100D8378C4329&index=53 A claw your eyes out dialog in this very 1960ish style this film along with so many others in its day were of a certain panoramic quality. I mean, they were shot as though everything was bigger than life itself on the screen. But then, the screen sizes were huge compared to today. [img]http://images.angusrobertson.com.au/images/ar/97803409/9780340952849/180/0/plain/the-carpetbaggers.jpg[/img] Contrary to RT's "movie info" synopisis, I really don't see any dirt-dishing best seller here. For its time maybe, but not now. Now all we really have is dirt-dishing constantly, whatever that truely means that is. [img]http://t2.gstatic.com/images?q=tbn:ANd9GcS6eZhS6pQNvw8VEEZm3a4YydWaq2wjel1ZLVpQUHj19jfg44tI[/img] Interesting to see an older Alan Ladd (Shane) in the beginning of this one, but he bows out early in the film only to reappear as a Western movie star. He is the ONLY person our lead actor George Peppard admires, perhaps because in the film Ladd was more of a father to Peppard than his real one who dies early in the film. Actress Ashely early in the film seems like Audrey Hepburn in this. The voice, the personality, the grace... its all Hepburn! Later, not so much. But the poor girl gets Peppard to marry her and in the end regrets it as Peppard is in love with the single life and the freedom he needs to build his many corporations. He is all about ambition and greed and always self-centered. REVIEWS: 60% A high class soap opera, and oddly entertaining because of that. The whole movie is overdone and loosely based on Howard Hughes. not rated% The novel was an immense bestseller in its day and had a pre-existing audience so there was no way it was going to flop commercially. Knowing that is what attracted a very good cast of players to support Peppard and Baker who give some really good performances. STORYLINE: George Peppard plays a hard-driven industrialist more than a little reminiscent of Howard Hughes. While he builds airplanes, directs movies and breaks hearts, his friends and lovers try to reach his human side, and find that it's an uphill battle. The film's title is a metaphor for self-promoting tycoons who perform quick financial takeovers, impose dictatorial controls for short-term profits, then move on to greener pastures. Written by Jeanne Baker NOTES: 1 Harold Robbins,(May 21, 1916 - October 14, 1997) was an American author of popular novels. One of the best-selling writers of all time, he penned over 25 best-sellers, selling over 750 million copies in 32 languages. 2 * Among Robbins best-known books is The Carpetbaggers - loosely based on a composite of Howard Hughes, Bill Lear, Harry Cohn, and Louis B. Mayer CastGeorge Peppard - Jonas Cord Alan Ladd - Nevada Smith Carroll Baker - Rina Marlowe Cord Robert Cummings - Dan Pierce (billed as Bob Cummings) Martha Hyer - Jennie Denton Elizabeth Ashley - Monica Winthrop Lew Ayres - 'Mac' McAllister Martin Balsam - Bernard B. Norman Ralph Taeger - Buzz Dalton Archie Moore - Jedediah Leif Erickson - Jonas Cord, Sr. Arthur Franz ... Morrissey Tom Tully - Amos Winthrop Audrey Totter - Prostitute Anthony Warde - Moroni Charles Lane - Denby Tom Lowell - David Woolf John Conte - Ed Ellis Vaughn Taylor - Doctor Directed by Edward Dmytryk Produced by Joseph E. Levine Written by John Michael Hayes Harold Robbins (novel) Running time: 150 minutes, color Not finished with this review but will be today!
monsieur rick
½
Ruthless & Cruel Jonas Cord (George Peppard), is a Career Maker & Breaker but someone you don't dare care about because he feeds on your weakness & will eventually use it against you if you dare to care.They say that this is based on Howard Hughes, if that is the case, no wonder he became a recluse.
Marilee Aschwanden
Discussion Forum
Discuss The Carpetbaggers on our Movie forum!