Carrie's War
(2004)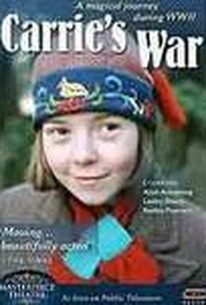 AUDIENCE SCORE
Critic Consensus: No consensus yet.
Movie Info
Author Nina Bawden's beloved novel springs to life as the story of a fourteen-year-old girl and her younger brother forced to separate from their mother and reside with a troubled family at the onset of World War II comes to the screen in a Masterpiece Theater presentation starring Alun Armstrong, Lesley Sharp, and Keeley Fawcett. As the bombs begin to fall in war-torn London, frightened Carrie (Fawcett) and her younger brother Nick face an uncertain future when, after being torn from their mother in the chaos, they are forced to relocate to the rural village of Wales. Assigned to live with widowed, puritanical shopkeeper Mr. Evans and his timid, spinster sister Lou, the children attempt to make the best of their situation while pondering the unknown fate of their absent mother. Their situation complicated by the seeming indifference of the distant Mr. Evans, Carrie and Nick take solace in their friendship with the kindly Lou before they are asked to fetch a Christmas goose from the nearby Druid's Bottom. A mysterious manor occupied by Mr. Evans' estranged sister Mrs. Gotobed and the self-professed witch Hepzibah, Druid's Bottom marks the beginning of a magical journey in which Carrie and Nick will learn just what it really means to never lose faith even when all seems that all hope is lost.
Critic Reviews for Carrie's War
There are no critic reviews yet for Carrie's War. Keep checking Rotten Tomatoes for updates!
Audience Reviews for Carrie's War
½
Early in the production, Carrie is told that to remove or destroy a skull kept in the library is to doom the house and its occupants. In a moment of anger and fear, she throws the skull into a stream--one, incidentally, that she's been told is sacred. She carries the burden of what she believes this causes around with her for easily thirty years (I don't believe they tell us when the framing bits are set, but I might easily have missed it). The war of the title is World War II. Carrie and her younger brother, as well as untold numbers of literary children, are evacuated from London into the countryside to get out of the way of the German bombs. They end up in a small town in Wales near a house called Druid's Bottom. (This, of course, is [i]enormously[/i] funny to the children.) Of course, we all Learn a Valuable Lesson or three over the course of things. We explore the nature of love, the nature of belief, and the effects of war. We also learn how helpless children are in the face of all this. Carrie and Nick have no say in whether they'll leave London, who will take them once they do, and whether or not they'll go stay with their grandparents in Scotland instead. Carrie can't help those who need the helping most--she is able, in a minor way, to help someone, but only by Giving Her the Courage to Make Her Own Choices. (And a few little white lies.) Carrie is supposed to be fifteen, I believe, or possibly fourteen. She seems younger, however, despite the fact that the actress playing her was older. She's innocent, possibly even naive, especially compared to the cynical Albert Sandwich--probably aged faster by the burden of that name!
Edith Nelson
Carrie's War Quotes
There are no approved quotes yet for this movie.
Discussion Forum
Discuss Carrie's War on our Movie forum!