Carry On Columbus
(1992)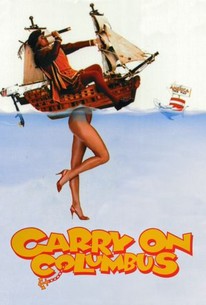 AUDIENCE SCORE
Critic Consensus: No consensus yet.
Movie Info
In this last gasp of the "Carry On" series, Jim Dale plays Spanish map-maker Christopher Columbus, who has a plan to navigate a new route to India. Heading off with a cabin boy in tow, Columbus doesn't realize is that his cabin boy is, in fact, a cabin girl.
Rating:
R
Genre:
, ,
Directed By:
In Theaters:
On DVD:
Runtime:
Studio:
Comedy House
Critic Reviews for Carry On Columbus
There are no critic reviews yet for Carry On Columbus. Keep checking Rotten Tomatoes for updates!
Audience Reviews for Carry On Columbus
½
An Interesting idea, let down by poor script and a poor cast. I Don't blame any attempt to revive the Carry On Series, there a bit of British film history in which we should be proud of. Columbus on the other sufferes from so many problems, as mentioned above the script is just terrible. The script however was written by Dave Freeman who'd be known for writing funny classics like Benny Hill and Bless This House along with that he also wrote another Carry On Film, Carry On Behind in which wasn't a bad film. As explained by Freeman in commentary for Behind he was given the impossible to come up with a script within in a two week deadline. Also as Freedman mentioned he didn't know who he was writing the parts for, unlike the previous Carry On Films where he knew who would be playing the Sid James role or Kenneth Williams role. Alot of former members of the Carry On Gang were approached (the few that were still alive) but a lot declined. Barbara Windsor apparently quoted saying she thought the script was "sh*t", Kenneth Connor was too unwell, Joan Sims was unhappy about lack of presents from former members of the gang, Terry Scott was too unwell, Bernard Bresslaw was less than happy with the script. So with all that, that can't be a good start. There is a select few from the original gang present one being of course, Jim Dale is only realy the capable person of taking on the lead. In which he does try his best with what he's got. Bernard Cribbins returns in somewhat a very poorly written role in which time round of course he plays an old man and the dialogue he's given just woeful a much different style to when he was last in the gang. Leslie Phillips does return who was minute replacement for Frankie Howerd who actually did agree to play the role of the King Of Spain, sadly Frankie was too ill and the role was recast, Frankie did sadly pass away just two weeks before production began. June Whitfield returns aswell as the Queen of Spain who I think actually gets best out of this and doesn't look like she's aged a bit since her last Carry On, Carry On Girls which was nearly twenty years before this. Peter Gilmore is there aswell in an extermely poor role, where plays the governor of canaries. Just a brief two minutes and he's gone. Jon Pertwee as the worst role as the Duke Of The Costa Brava. Blink and you'll miss him. As you can see some of the suriving members of the gang who are present in this are relegated to really weak poorly written roles, oh and how could I forget Jack Douglas who plays the part of a prisoner. You see him in the film now and again but barely given any dialogue only one brief scene with Jim Dale and one other scene and that's all you get and you don't see any of his prevouis antics either. Supposedly Jack had more scenes in this which ended up on the cutting room floor! Yet some of the crap they kept in. A lot of new faces are present in this and most look out of place. Starting with some Peter Richardson playing Columbus's brother, first of all whose Peter Richardson? well whoever he is. He isn't that Memorable. Originally this role was offered to Harry Enfield who despite being a huge Carry On declined due to being dissapointed to hear so many of the original gang absent. Good Move by him! Julian Clary is there clearly playing the Charles Hawtrey, he's okay to be fair but at times I just get that feeling he's one those who looks at of place in a Carry On. Richard Wilson is here to, though he's not in film as much as you think. It's unsure if he's playing the Kenneth Williams type role or is Rik Mayall doing that. But whatever Richard is underused and given little to do. Once again another who looks out of place, in some ways he was playing the role he was playing Victor Meldrew from One Foot In The Grave. As mentioned Rik Mayall is in this who is totally wasted! The first person you see in the film but he's only in the film for the first five minutes, despite being the main villian. I always wonder if this more stuff on him that ended up on the cutting room floor. Nigel Planner is there who has the problem! Alexi Sayle is there! hang on there's a pattern... The Young Ones.... well if looking to get same crowd from that then why didn't they get Ben Elton to write this. Ben Elton of course also wrote Blackadder and would have been perfect for a writing period comedy. Was he approached? Speaking of which this another good thing to mention about the comedy, since the Carry On's were absent comedy had changed. Alternative comedy by this time was top of it's game, shows like Bottom, The Young Ones, Blackadder, The New Statesman, Monty Python. Family comedy's at this point were strugging the only surviving one I could think of was Only Fools and Horses. Speaking of which was even David Jason considered? I can remember there was talk about him being linked to the unmade Carry On London project. But anyway my point getting is with all these alternative comedians they had you would have thought they would have took advantage of it. Okay I'm not saying they should have done it in the style of The Young Ones, but I was thinking of mind of more Blackadder. That should have been the style, it's not quite so wacky as the Young Ones but it's catchy and funny. Instead the producers try to use the humour they used back in the 60's and 70's which I'm afraid was old hat by then and in any case the ones they used in this, weren't even half as funny. Going back to the few faces we've got Maureen Lipman in there, yeah I know she's never appeared in a comedy so I'm still what she's doing in there and to be honest she's probably the one with biggest miscast. She's great actress, but she totally struggles with the comedy. Holly Aid's in this too, hadn't got a clue who see was at the time best known for a role in Fever Pitch. Keith Allen's there too can believe, who looks totally bored stiff with this. Okay enough with the new cast less just face it, there some really good stand up comedians there but some are just wasted in this and look out of place. Jim Dale and Bernard Cribbins both mentioned the biggest problem about this movie which was, it didn't feel like a team. Too many people split into groups who had different vision to take this movie plus some actors only caring about there own performance than others and the film itself, if you get what i mean. By the sound of this, unlike any other Carry On no one enjoyed making this. A lot only agreed to do this in loyality to Gerald Thomas. Unlike the prevouis Carry On's despite being confined to a small studio and a very small budget, the sets always looked bigger and realistic than they were. In this you can its a small studio set. In Carry On Jack you really did believe they were at see and on a real boat, in Columbus you never felt that. On to the plot, its very weak basically the story Columbus wanting to sail to the new world in search of treasure and discover new land (though of course more bothered about coming back with treasure) On route they come across some problems, like crashing into another boat and mistaking into thinking it's a ghost boat. Though really it's a boat in port preparing for depature for the Countess Of The Caneries for there voyage. Typically they decide to randomly set fire to the boat, unknown of who it belongs to. Eventually they arrested and given ordered to change there voyage back to spain in order to countess and the family back there. Instead Columbus tricks them and continues his own voyage. While in the mean time the Turks are unhappy about Columbus and his voyage and fear that if the new world is discovered no trade will pass through Turkey anymore so instead they sent two agents to sabotage the voyage. Basic plot and after a while it becomes boring once in America, the film tries to pick itself up but overall it does still feel anti climatic. Did I mention the love interest in this film is girl from the butter advert! oh and she went onto marry Jim Dale's son so that's nice. But anyway Columbus is quite an forgetable film, as a seperate comedy its just boring. Every time I watch columbus I try to like it and find some postives but there just isn't, the whole thing feels like a cheapened attempt. In fact it was on a budget of just over £2.5million which was quite a lot for a Carry On Film, so you could argue it had no excuses. Maybe it was because the rushed production by the sound it of the project was on and off for some time, when they eventually got given the green light to make they were only given short time to get it done. Perhaps more time for the writter and a better cast Columbus may have worked. Movie 1.5/5 for me.
Andrew Daffern
½
Not as bad as it sounds..wish they'd make some more (with the 'right' cast)
Mark Evans
Super Reviewer
Carry On Columbus Quotes
There are no approved quotes yet for this movie.