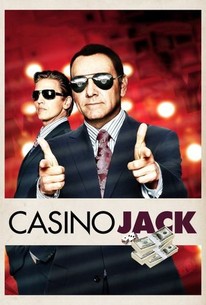 Casino Jack
2010, Drama/Biography, 1h 48m
98 Reviews
10,000+ Ratings
What to know
critics consensus
Kevin Spacey turns in one of his stronger performances, but Casino Jack is a disappointingly uneven fictionalized account of a fascinating true story. Read critic reviews
Rate And Review
Movie Info
Powerful lobbyist Jack Abramoff (Kevin Spacey) is on a mission to acquire all the good things that money, power and privilege can buy. With business partner Michael Scanlon (Barry Pepper) at his side, Abramoff uses his considerable clout to amass a lucrative and influential personal empire. When Abramoff and Scanlon team up with a mob-connected pal to carry out their latest scheme, they soon find themselves in over their heads.
News & Interviews for Casino Jack
Audience Reviews for Casino Jack
[img]http://images.rottentomatoes.com/images/user/icons/icon14.gif[/img]

Super-lobbyist Jack Abramoff cons Washington power players and Native casino owners. "My name is Jack Abramoff, and I work out every day." Kevin Spacey chews the scenery to bits, and what would be heavy-handed bullshit in the hands of another actor is just good fun for Spacey. Roger Maris and Jon Lovitz try to keep up, but Spacey's personality and character are almost too much to eclipse. I can't say that it's a good performance, but it's entertaining. Structured like a basic crime drama, what makes <i>Casino Jack</i> interesting is Abramoff's blissful ignorance of the corruption in which he's a central player. Though the film could have done more to show the victims of his crimes, it's almost as though Abramoff's personality overshadows his negative effects - a result that likely mirrors what it's like to be around the real Abramoff. Overall, the film is imbalanced, but if you want to see Kevin Spacey have fun being an actor, this is the film for you.

Throughout his career, director George Hickenlooper would switch from documentaries to feature films. He is probably better known for "Hearts Of Darkness: A Filmmakers Apocalypse" where he brilliantly documented the trouble that Francis Ford Coppola had in making "Apocalypse Now". His abilities in delving into true murky situations are also reflected in this account of a 2006 Washington D.C. political scandal. Jack Abramoff (Kevin Spacey) is a self proclaimed family man, Republican and devout Jew. He also happens to be a lobbyist who wields a lot of influence with politicians and businessmen. Along with partner Michael Scanlon (Barry Pepper), he decides to lobby a casino for a Native American tribe, stealing millions from them in the process. He also sets up an illegal chain of offshore casinos that involve gangsters and eventual murder. Abramoff is highly ambitious and lacks morals and that's exactly what leads to his conviction on charges of conspiracy and mail fraud and the downfall of many politicians who were happy to do business with him. If you've ever seen Kevin Spacey get interviewed then you'll know that he has an ability to do impressions. This is a role where he is given a bit of leeway to show a couple of them; Al Pacino, Ronald Regan and Bill Clinton among others. It's also a role that allows him to give a few of the cocksure Spacey rants that we have become accustomed to. It's one of the better roles that he's had over recent years and he makes the most of it. It's him that keeps this film anchored as it attempts to cover more ground than it can handle. It can't be easy covering true events and trying to be as honest about them as you possibly can, without losing sight of a few things. Hickenlooper has a good go and doesn't shy away from naming names involved in the scandal. He doesn't change anything; Abramoff and Michael Scanlon are put under the microscope and political big-hitters like President George W. Bush (of course) and Senator John McCain are also implicated. It's a brave move and Hickenlooper and screenwriter Norman Snider deserve credit for their bravery. Speaking of which, Snider's writing is fast-paced and snappy. He starts with a bang and never really let's up. He drops names into the mix and moves from person to person in quick succession, showing the extent and depth of the corruption that political figures, so often, finds themselves in. However, this is also part of the film's problem: there's too much going on and it attempts to move into comedy territory that doesn't suit the seriousness of the characters' downfalls. The inclusion of the highly irritating comedic actor Jon Lovitz was a bad move entirely. He seems as if he's walked on to the wrong set. As mentioned though, Spacey keeps the film interesting and despite an underwritten role, Barry Pepper lends some excellent support as his partner in crime. What I found most intriguing though, was the story itself. Maybe I've been leading a sheltered life but I don't recall this corruption being broadcasted or reported, despite it being compared to the scale of the Watergate scandal of 197. I'd never heard of Abramoff either, who has been a colourful and highly influential figure in recent American politics. Not to mention, a producer and writer of the Dolph Lundgren movie "Red Scorpion". Truth does indeed have a funny way of being stranger than fiction. Political backhanders and downfalls are exposed in a fast-paced and comedic style. It's doesn't succeed on all accounts but remains an intriguing story.

This film should have gotten more attention when it came out. I am surprised that it didn't get any Oscar attention. Kevin Spacey shines in the film. I am surprised that he didn't get a Best Actor nomination for the role. Barry Pepper is also good in the film. I could have also seen Stephen Soderbergh direct this film. He could have given it a style similar to his film, The Informant. I thought Jon Lovitz was miscast in the film. I could have seen Jason Alexander or Tony Shaloub play that role much better. I definitely recommend this film, especially for Spacey and Pepper's performances in it.
See Details