Casino Tycoon (Do sing daai hang san goh chuen kei)
(1992)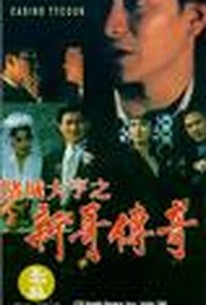 AUDIENCE SCORE
Critic Consensus: No consensus yet.
Movie Info
The first installment of a two-part crime epic from Hong Kong filmmaker Wong Jing, the meandering and complicated Casino Tycoon chronicles the life of Benny Ho Hsin (Andy Lau from Casino Raiders), a poor boy who has risen to the top of his college class and won prizes for his academic diligence. He has also made an enemy, the nasty Fu Chia-chin (Wilson Lam) who is jealous of Benny and wants his girlfriend Vivian (Joey Wang). In December 1941, the Japanese invade Hong Kong and Benny goes to Macau with his friend Nan (Alex Man), where the pair work as coolies on the docks. Benny advances his station in life by devising a plan through which casino operator Fu Lao-cha (Kwan Hoi-shan) can save his business, nabbing some gambling sharks who were on the verge of driving him to bankruptcy. Grateful, Fu hires Benny and Nan, sending them to get medical supplies by boat. On the way, the pair defeat a plan to kill them by the treacherous dock foreman Wong Chang (Paul Chun) and return to be made full partners by the impressed Fu Lao-cha. Benny prepares to marry the beautiful Mei (Chingmy Yau), but Fu Chia-chin -- now Vivian's husband -- shows up to spoil the wedding. Things become even more complicated as Wong Chang's men kidnap Lao-cha, and Benny and Nan are framed for the abduction, exiled from Macau along with Mei for a decade. The trio returns to Hong Kong, and Benny and Nan become real-estate tycoons. Helped by Nieh (Lau Siu-ming), they decide to try for a casino license in Macau ten years later, leading Wong Chang to send the crazed Fu Chia-chin after Benny. Instead, Chia-chin paralyzes Mei before committing suicide, and the horrified Benny offers a 5,000,000-dollar bounty for Wong Chang's murder. With more developments than an entire season of most nighttime soap operas, there barely seemed the need for a second part to the story, but Casino Tycoon II followed later in the year. ~ Robert Firsching, Rovi
Critic Reviews for Casino Tycoon (Do sing daai hang san goh chuen kei)
Audience Reviews for Casino Tycoon (Do sing daai hang san goh chuen kei)
Nice gangster saga, with good performances from Lau, Wong and Yau.
Anthony Valletta
Super Reviewer
Casino Tycoon (Do sing daai hang san goh chuen kei) Quotes
There are no approved quotes yet for this movie.
Discussion Forum
Discuss Casino Tycoon (Do sing daai hang san goh chuen kei) on our Movie forum!