Casper's Scare School
(2006)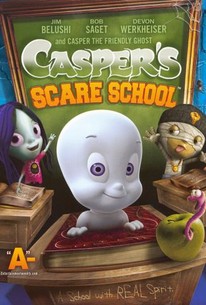 AUDIENCE SCORE
Critic Consensus: No consensus yet.
Movie Info
The direct to video animated movie Casper's Scare School features the beloved friendly ghost attending a school in the hopes of learning how to frighten people. Although he goes through the classes, he reverts to his benevolent ways when he uncovers an evil plan. The voice cast includes Simpsons regular Dan Castellaneta, Jim Belushi, and Phyllis Diller.
Audience Reviews for Casper's Scare School
½
We despise nice. Casper has developed a relationship with a little boy. They have worked on soccer together and the boy is trying out for the soccer team; unfortunately, Casper needs to be back to scare school with other ghosts his age. Casper struggles to find enough time to be successful in school and support the boy. "They're scare meat." Mark Gravas, director of episodes from the television series CJ the DJ and Yakkity Yak, and Here Comes Peter Cottontail: The Movie, delivers Casper Scare School. The storyline for this was just okay and the animation is fairly average. "We despise nice." This was recently added to Netflix for the holiday season so my daughter and I watched it. It was okay and fairly straightforward. I wouldn't go too out of my way to see this but it is worth watching once. "Banana cheese." Grade: C
Kevin Robbins
½
Sure it does have some pretty average CG, and the acting is less than perfect, it stays stable with its plot and its humor.
Michael Edwards
Super Reviewer
How many times was this movie released? Twice in 2006 and then once again in 2007? 3 times to many.. Anyways, it's mind rotting. Bad animation, bad plot, bad acting, bad everything. If you have kids please I implore you, have them watch the 60's and 70's classics and avoid this trash. pretend it doesn't exist. They will come out dumber than before they went in. It's sad when you realize that people got paid for this..
Vincent Tilghman
Super Reviewer
Casper's Scare School Quotes
There are no approved quotes yet for this movie.
Discussion Forum
Discuss Casper's Scare School on our Movie forum!