Castaway on the Moon (Kimssi pyoryugi)
(2009)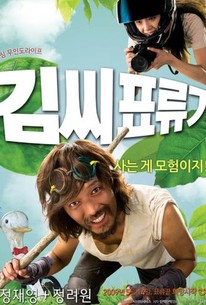 AUDIENCE SCORE
Critic Consensus: No consensus yet.
Castaway on the Moon (Kimssi pyoryugi) Photos
Movie Info
This offbeat romantic drama from South Korea witnesses the intersection of two eccentric lives. Kim is a down-and-outer who makes a suicide bid by leaping into the dark, still currents of the Han River; in lieu of dying, however, he comes to and discovers that he is lying on a strange piece of ground, covered in sand. He briefly mistakes this environment for Heaven, then learns that he passed out and drifted to an island in the middle of the river. Meanwhile, in one of the apartments alongside the river, a woman named Kim suffers from intense chronic depression and agoraphobia so severe that it has confined her to a lonely room for years. With her messy, unkempt appearance and the same dirty clothing that she has worn forever, she resembles a castaway on a desert island. As the male Kim takes up residence on the island opposite female Kim's apartment, and experiences greater contentment and peace than he has ever known before, the female Kim catches a glimpse of him through her binoculars and feels so moved by his complacency and apparent happiness that she decides to leave her apartment for the first time in ages and connect with her new neighbor.
Critic Reviews for Castaway on the Moon (Kimssi pyoryugi)
There are no critic reviews yet for Castaway on the Moon (Kimssi pyoryugi). Keep checking Rotten Tomatoes for updates!
Audience Reviews for Castaway on the Moon (Kimssi pyoryugi)
½
Very offbeat. Very quirky, but sweet, and endearing. Very slow moving, so not recommended for anyone who likes fast paced films. A strange, but for some reason rather enjoyable film.
Cynthia S.
Super Reviewer
A botched suicide attempt leads to homeless horticulture and a long distance relationship with an agoraphobic voyeur. I'm serious. The man finds romance while living alone on an island inside a big plastic duck.
Randy Tippy
Super Reviewer
½
Improbable plot aside, I mean who REALLY gets stranded on a deserted island that's completely surrounded by a city, I completely and utterly LOVED this movie. It does get a bit weepy at the end, but it made sense in the context of the story and it made for an incredibly satisfying ending. I just think the movie is genuinely sweet and touching with fantastic performances from the leads. One of the many strengths of the movie is how it is a fairly simple story that's very easy to get into and connect with the characters on an emotional level, you want to see them overcome their faults and eventually meet and become friends, very simple stuff. It's also a very funny and heartwarming film. It's really near perfection. For what it is trying to get across, I think it does everything well and doesn't mess up in any way that it detracts from the experience. As you can see, I am completely in love with this movie. I HIGHLY recommend it, and please do access this film by legal means. If you have Netflix streaming (where I watched it), stream it over there. Don't watch it on YouTube or torrent it. I guarantee that at least 95% of you who watch this will be completely satisfied with the movie. Some of the money does go to Netflix, unfortunately, but at least some of it also goes to the cast and the crew of this movie and they deserve it for such a lovely and wonderful film. I hate to sound preachy, especially for someone who has torrented several extremely successful Hollywood movies.
Jesse Ortega
Super Reviewer
Castaway on the Moon (Kimssi pyoryugi) Quotes
There are no approved quotes yet for this movie.